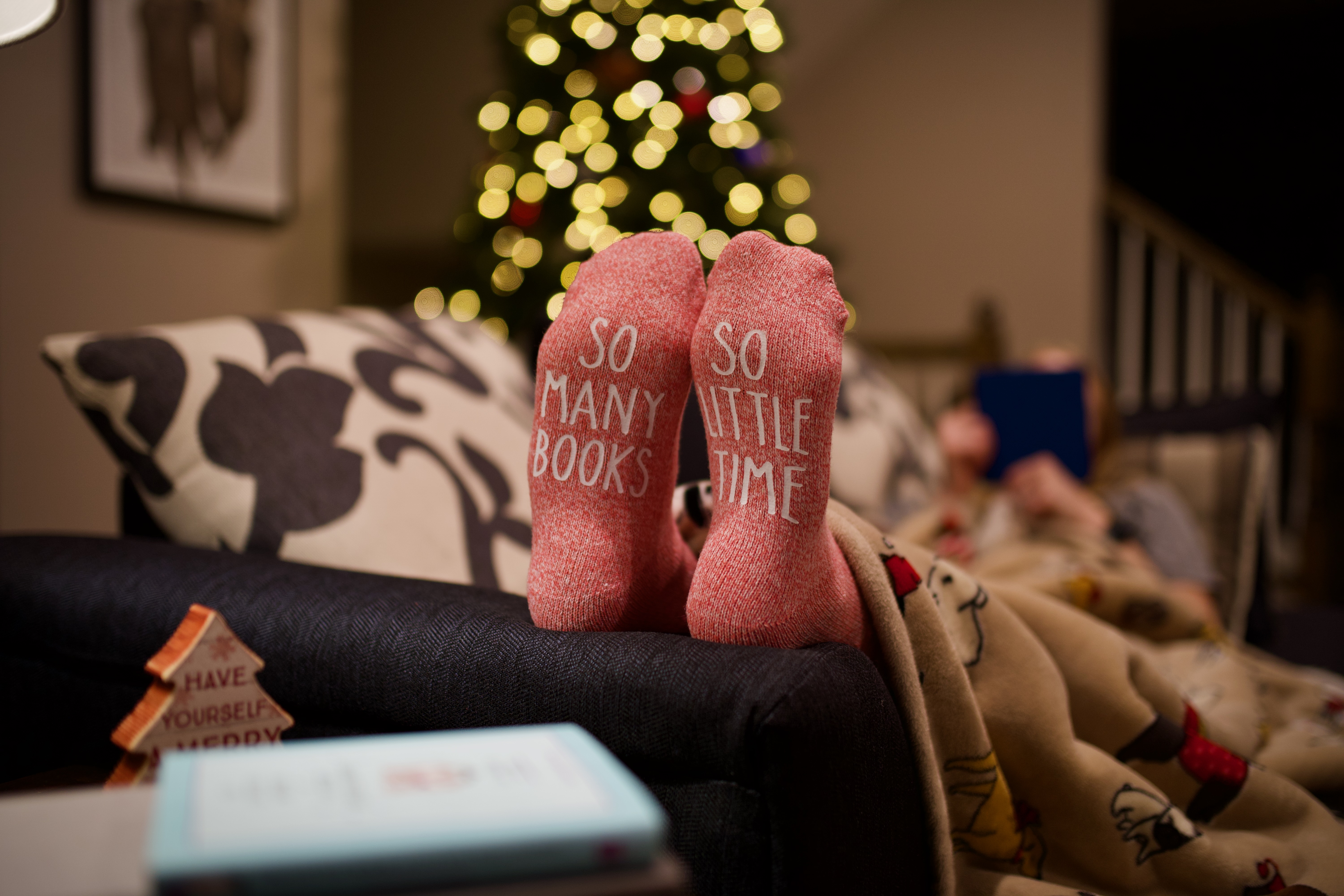 Since 2017, I've been writing down what books I read. Another Year of Books started in 2018, but the counting started the year before. Until 2021, 2017 remained the winner with 62 books read. This year, however, beats 2017 only slightly - in the end, 64 books were consumed. What a year.
The end of the year means it's that time - to pick the best, the worst, and the ones I think you should hear about in a recap.
Without further ado, here it is… the Annual Recap of Another Year of Books, 2021 Edition.
---
A Shout Out to the Rom-Coms
At this point you know, I love rom-coms. They are usually my book of choice. I can't help that they are usually my favorites. Read what you like, in my opinion.
The Soulmate Equation by Christina Lauren
I knew right away I would like this one. I was not wrong. I laughed out loud. I liked both River and Jess (the main characters) and the secondary characters really helped the story. It is cute, funny and romantic, all in one.
While We Were Dating by Jasmine Guillory
Another recap, another mention of Guillory's books. There have been some ups and downs in Guillory's The Wedding Date series. Her latest is definitely an up. The whole thing is charming; it's (mostly) realistic. The lead characters are great. Another win for Guillory!
Primas of Power by Alexis Daira
You Had Me at Hola and A Lot Like Adiós are the first two books in this series. I read both in less than a week. They were that good. They are great rom-coms; they suck you in and keep you there. I'm looking forward to the third, whenever it comes out.
---
It's 701 Pages Long, but Read It Anyway
A Promised Land by Barack Obama
Yes, this is a time commitment. But it's still shorter than the longest Harry Potter book, so you can do it. Trust me, it's worth it. Remember… "history has its eyes on you."
---
The Let Downs
The Woman in the Window by A.J. Finnn
I hated this book 50 pages in. I still hated it when I was finished. This book had so much hype and was such a let down. Don't waste your time.
The Honey Don't List by Christina Lauren
I usually really enjoy Christina Lauren's books. I've read a decent number of them and none have let me down… until I read Honey Don't List. I immediately put it in my "to donate" pile. Skip this one. Read one of their other books instead.
---
A Couple I Didn't Write About
I decided in 2020, I wouldn't write about every book. I continued with that this year. In the end, I read 64 books. I posted about 46 of them. Overall, a pretty good ratio, but I wanted to call out a few that I didn't post about.
The Spanish Love Deception by Elena Armas
Catalina Martín really needs a date for her sister's wedding in a month. Then, Aaron Blackford, a man she finds insufferable, volunteers. A weekend in Spain with a man she hates shouldn't be too bad, right? This one passed the time - it wasn't amazing but also wasn't bad. I did get sucked in (go figure); so much so that I had to tell my mom I'd call her the next day because I got caught up reading.
Meet You in the Middle by Devon Daniels
Senate staffer Kate Adams has one thing standing in the way of passing the legislation she is fighting for: conservative staffer Ben Mackenzie. They disagree on just about everything and the sparring begins. Until the sparring turns into flirting. I borrowed this from the library to pass the time while I waited for a new book to come out, and I loved every page. It was sassy, funny and rom-commy, all in one.
---
The Classic
Little Women by Louisa May Alcott
At the age of 29, I finally read Little Women. I'm proud of myself. I wanted to mention it. I liked the book; I liked the 2019 movie. Read and watch this one.
---
The One I Didn't Want to Leave Out
The Lost Apothecary by Sarah Prenner
This book was so close to being in the Top 5. Because it was so close, I wanted to point it out. It spans centuries; it has suspense; it has an unsolved mystery. It has a heck of a lot of revenge. The whole thing was intriguing and because of that, it deserves to be mentioned here.
---
And Finally, The Top Five Reads of 2021:
I struggled with this one. It was tough to pick the order. It was even tougher to pick the Number 1 read. I was conflicted, until I sat down and said "Which one would I randomly pick to read the most?" and that sealed it.
So here they are - the Top Five Reads of 2021.
5. Last Summer at the Golden Hotel by Elyssa Friedland
The Goldmans and Weingolds have gathered together for a major decision - will this be the last summer at the Golden Hotel? The Catskills are not what they used to be and times have changed; millennials will clash with tradition. Drama will ensue. Follow these two families over the course of a week and the months beyond as they make the ultimate decision. You'll learn family secrets, you'll read as the drama unfolds, you'll LOL at times. It's a satisfying read of pure dramedy. I had a hunch when I read it in the summer, it would be a contender for top read. Friedland does it again with Last Summer at the Golden Hotel.
4. Seven Days in June by Tia Williams
Neither Shane Hall nor Eva Mercy expected to see one another after fifteen years. Years ago, they spent one week together that has continued to influence their everyday lives (and their writings) ever since. They find themselves back together for a week, reconnecting despite Eva's weariness. She needs answers as to what happened fifteen years ago, while Shane wants to explain. This is a love story, but it's so much more than that. Seven Days in June has so much emotion. You'll feel it all. You'll feel like you are there, watching the present day week play out, walking the High Line with Eva and Shane, or sitting in the audience of the literary event. This book has depth, realism and heart, all wrapped into one.
3. Malibu Rising by Taylor Jenkins Reid
It's 1983. Nina Riva is hosting her annual end-of-summer party. The party is as famous as the Riva family is. By the time the last flame dies down, secrets are uncovered, an unexpected guest appears, and things might just go up in flames. I'm confident that people will disagree with me, but I liked Malibu Rising more than I liked Daisy Jones and the Six. I liked that it felt like I was watching the party playout from above. I think that was the whole point. At times, it's chaotic and difficult to keep up with what's going on, but isn't that what happens at a party anyway? Readers get to know the Riva family during this wild ride. Because that's what this book is - wild. I mean there is a fire and who started it?! Read it to find out.
2. The Last Thing He Told Me by Laura Dave
The last thing Hannah's husband, Owen Michaels, told her (via a note) before he disappeared was "Protect Her." Her being Hannah's sixteen year old stepdaughter, Bailey. Then the FBI is involved; a US Marshal knocks on the door; Owen is not who Hannah thought he was. Follow Hannah and Bailey as they search for the truth and discover that the future will be completely different than what they saw for themselves. I tell everyone I know to read this book, because it was that good. To sum up The Last Thing He Told Me, I'd use the word gripping. There were twists. There were so many secrets. I couldn't figure out how it would end (and that's saying something because I usually can). Laura Dave does a great job with Hannah and Bailey's relationship. In a book filled with unknowns, she made that a focus. It was impressive. I'll tell you what I tell everyone else - read this one.
1. People We Meet on Vacation by Emily Henry
Poppy and Alex's friendship began on a road trip to their shared home town in college. They realized then that they were completely opposites. For a decade, each summer, Alex and Poppy go on a vacation together. That is until two years ago, which is when their friendship imploded. When Poppy reaches out and Alex agrees to another vacation, she sees her chance to repair something that's broken. It's all depending on if Poppy can ignore what caused the fallout and avoid the one massive truth that's been a quiet constant in their friendship.
When I was thinking of what book would win the coveted Top Spot of 2021, I decided to go with my gut. And my gut told me People We Meet on Vacation. It's the book I would definitely pick up to read over and over again. Mostly because it's my type of book. Plus, the When Harry Met Sally vibes, because When Harry Met Sally is one of my all time favorite movies. I can't get enough of it. And I couldn't get enough of this book. Yes, you can feel those vibes, but the plot is completely different and you'll forget about the connection while you read.
Emily Henry had me with Beach Read last year, and she had me again with People We Meet on Vacation. It was quirky. It was lovable. It was funny and it was dramatic. Honestly, this had everything I like in a book. It was an easy, worthy pick for the Top Read of 2021.
---
Well, that's it. 2021 has come and gone. It's been a big year, both for the world and for me. The world - well, you know why. Me - I went to a in-person concert for the first time since 2019; I also flew for the first time since 2019; I rearranged my entire bookshelf; friends got married; we got married; we honeymooned; we threw a party.
2021 was full of adventures. It was full of books. It was full of posts. It was, despite the state of the world, for me, a good year. I hope it was for you as well. If at times it wasn't, I hope that books gave you a reprieve, a place to escape to, or a moment to yourself. Reading has always done those things for me, and I hope they have for you.
Thank you for continuing to read this hobby of mine. Stay tuned for a post in early 2022.
Happy New Year!
-Emily