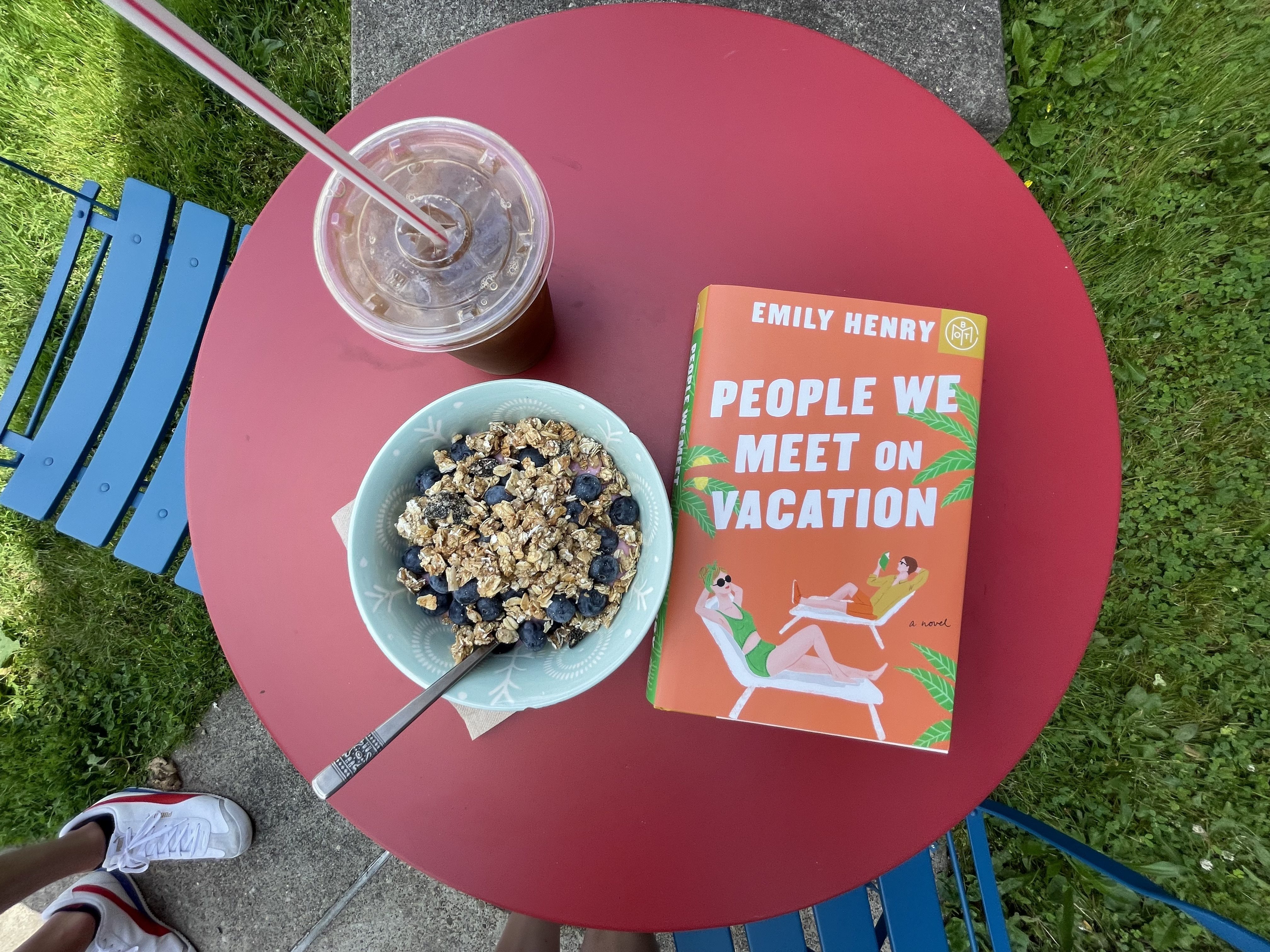 I will never commit to having only one favorite movie. I know myself too well to do that. I'll end up changing my favorite each and every time. One time, it'll be The Sound of Music; another, Guys and Dolls; the next, First Wives Club. So instead, I have a top five, and on that top five, is the classic, 1989 Nora Ephron written, Rob Reiner direct, rom-com, When Harry Met Sally.
I absolutely love it. I could watch it daily. I'd probably most often cite it as my favorite movie. Recently, it was added to HBOMax… I watched it the same day. It's quotable, it's funny, it's the best. Even if you disagree, you can't deny that When Harry Met Sally has one pretty iconic scene. Plus, we all know "Baby Fish Mouth" is a GREAT pictionary answer. Actually, it's probably the best.
---
Book Read: People We Meet on Vacation
Author: Emily Henry
2021 Book Count: 24
---
When Poppy and Alex first met, it was clear they were opposites. Their first meeting was not great, but they end up driving back to their shared hometown together that summer. So their friendship begins.
No matter what, each summer, Alex and Poppy take a vacation together. It's been that way for a decade. Until two years ago, when their whole friendship fell apart. Alex and Poppy haven't spoken since.
Then, a question makes Poppy realize why she is in a rut. She reaches out, and Alex agrees to another summer vacation. Poppy has a week to repair it all; as long as she can ignore what happened two years ago and the one big thing that has always been in the middle of their friendship. One week, one chance to repair something that's broken.
---
I bumped this book up on my "to read" list, despite having so many other books to read. I did it because I loved Beach Read by Emily Henry late last year. I had hoped that People We Meet on Vacation would be another winner.
It was.
People We Meet on Vacation is a quirky, romantic, will-they-or-won't-they, story. Poppy is humorous and determined, determined to get out of her town and to mend their relationship. Alex is quiet, strong and has a mean puppy dog face. I couldn't help but laugh every time it was mentioned.
Henry tells the events of this summer, along with those of the past 12, with great dialogue, funny moments and seriousness, all wrapped in one. From the first summer they drove home from college together, Poppy and Alex find that, despite being complete opposites, they are two peas in the pod. Their friendship is so enjoyable and charismatic. It has its ups and downs, like any good friendship does. Henry describes it all so well, it's like you're there with them, experiencing every trip.
I do wish there were more summers in this book. I'd love to know more about what happens next. You do get one sneak peek, which is great. Honestly, it would take a lot for this one to go wrong considering it has When Harry Met Sally vibes. While it has the vibes, it is not the same plot, which is also good. It meant I didn't spend my time comparing the two. Instead, I was able to just sit back and read.
People We Meet on Vacation is an enjoyable, quirky, lovable read. A perfect read for the summer days.
Maybe now, I'll go watch When Harry Met Sally again.
---
Next Read: The Woman in the Window by A.J. Finn
---