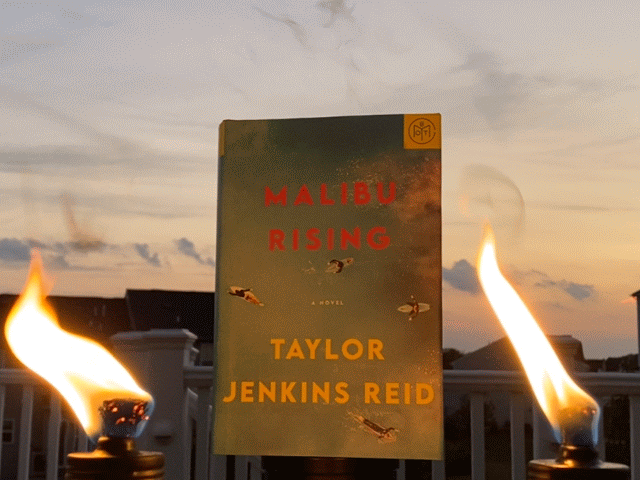 I'm sure I've mentioned before that my sister and I are constantly trading books. When she was last in Pittsburgh, she brought with her Malibu Rising. I added it to the pile of books I had borrowed from her, knowing I'd end up reading it way before I read the two I've had on loan for the past year (or close to it). I was correct… I couldn't wait to read this one, so I bumped it up on the list. Read on to see how that worked out for me.
---
Book Read: Malibu Rising
Author: Taylor Jenkins Reid
2021 Book Count: 36
---
It's August 1983, and Nina Riva is hosting her annual end of summer party. It's a tradition that began after Nina was discovered as a model. Each year, the party seems to get crazier and crazier. No one officially receives an invite. The anticipation for another great party is high.
The four Riva children are famous in their own right, but it doesn't hurt that they are the offspring of the legendary Mick Riva. They might be his children, but not one of them have seen Mick in well over a decade, when he never came home after a tour. Nina has become the parent; Jay is facing a career-ending decision; Hud has a huge secret that he needs to tell Jay; and Kit, the youngest, is trying to figure out who she is and who she wants to be.
By the time the party's over, secrets will be revealed, a guest who was technically invited shows, the alcohol will flow, arrests will be made, and the mansion will go up in flames. (That is not a spoiler. It's in the book insert.) An unforgettable night will lead the Riva family to revelations, choices, goodbyes, and freedom.
---
The best way I can describe how I felt reading Malibu Rising is that I was watching it all play out from above, seeing all the drama firsthand. I felt like I was right there, experiencing it all with the Rivas and their party guests. I absolutely loved it.
This book had drama, wit, comedy and fire, all wrapped up into one. At times, it does seem like there is so much going on that it's hard to keep up. But I think that's the point. It's meant to feel like you are there at the party, seeing two famous people making out on your left, while on your right, someone is swinging from a chandelier, and in front of you is another person throwing china. Let's just say, things really get out of control.
Reid also includes snippets of the past, which help put the pieces together about why the Riva family is the way it is. By including these parts, Reid introduces you to June, their mother, and tells you the story of how Mick and June came together. It all moves smoothly, and Reid included each chapter about the past in the exact spot where it needed to be. Not once did it feel like it broke up the story of the party.
I would go as far to say that Malibu RIsing has put itself right up there with my top reads of 2021 thus far. I honestly think it will remain there throughout the rest of the year. I'd even be bold enough to say that I liked this more than I liked Daisy Jones and the Six (Meghan, along with I'm sure many others, would disagree… I don't care).
Taylor Jenkins Reid has yet another winner with Malibu Rising. It will keep you on your toes, keep you rooting for Nina and each member of the Riva family, and keep you reading. I'm warning you now that this one will suck you in; you'll be glad when it does.
---
Next Read: The Lost Apothecary by Sarah Prenner
---