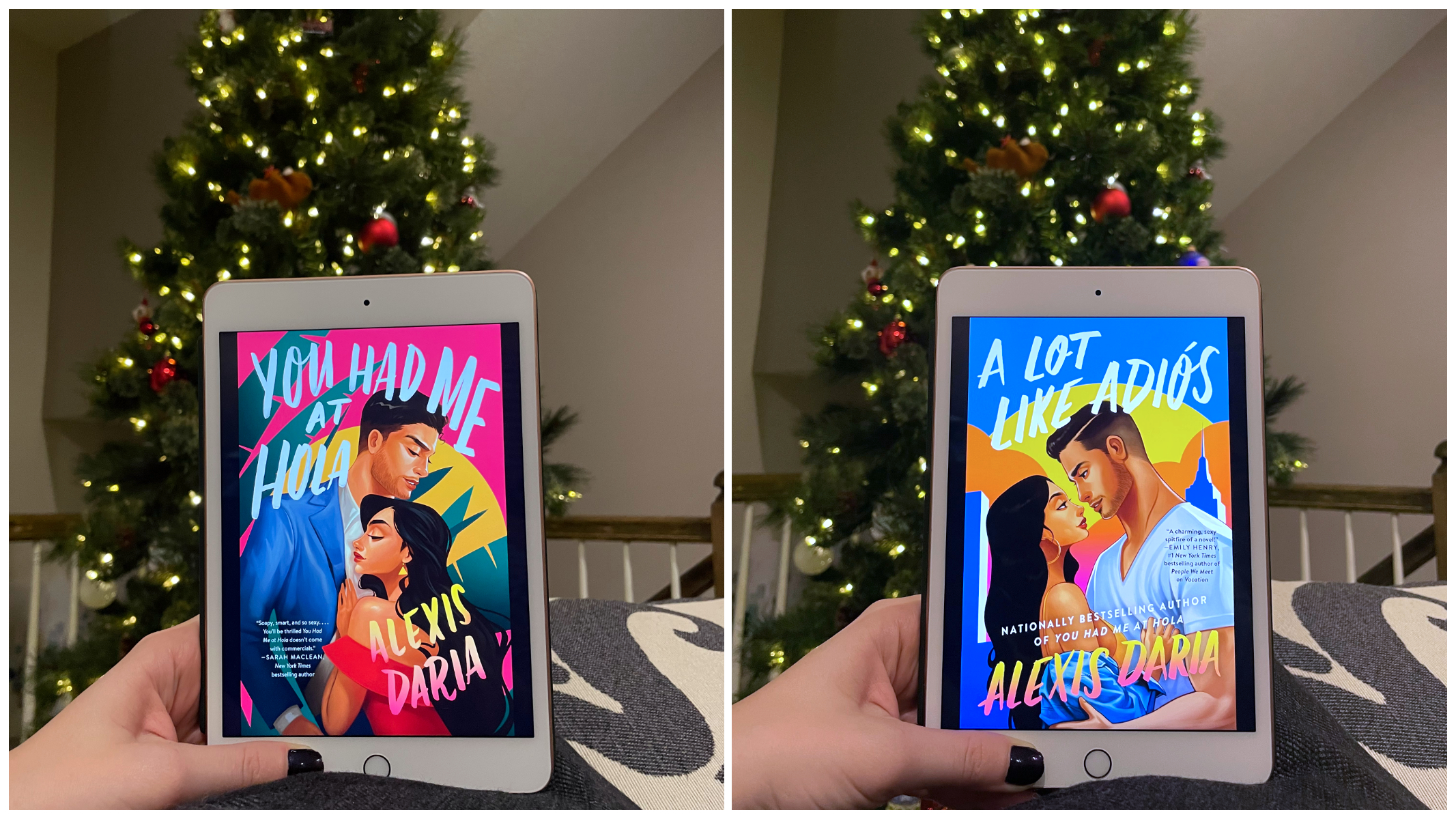 On a whim, I bought the first book below to read on my Kindle. I figured I'd read it and then wait for the second book from the library. After I finished the first in three days, I was so tempted to buy the second. I mentioned it to Matt and he said "you have a gift card, buy it." He was right, so I bought it. Then, I read that one in three days as well.
Since these are the first two books in a series (the third, I expect will be released next year), I thought why not include them both in one post?
---
Book Read: You Had Me at Hola
Author: Alexis Daira
2021 Book Count: 55
The Plot: Following a messy, public break up, Jasmine Lin Rodriguez is happy to escape to New York City to begin filming the bilingual romantic comedy show she is starring in. With the help of her cousins, Michelle and Ava, aka the two other members of the "Primas of Power", Jasmine creates her "Leading Lady Plan." It's a plan that will keep her on track. That is, until she meets her new co-star, Ashton Suárez. Ashton sees his role on Carmen in Charge as his opportunity to break into the Hollywood scene, following his career on telenovelas. Both of their careers are on the line, so following a not-so-great first impression, Ashton and Jasmine agree to rehearse in private. Rehearsing in private leads to some steamy moments. While their on-screen performance improves, Jasmine is in the spotlight time and time again, and being a media spotlight is exactly what Ashton wants to avoid. As the media focuses on Jasmine, Ashton's long held secret is at risk of being exposed.
The Review: The fact that I read this in three days should say something. I got sucked in. Jasmine and Ashton's story was a great start to this series. It laid the groundwork perfectly. Jasmine and Ashton are 100% likeable. Jasmine is independent and strong. Ashton is reserved (for a good reason) and charming. Their ending was satisfying. Along the way, readers will get to read snippets of Carmen in Charge. That was a great add in; it was always placed at the exact moment that needed it. There is also an amazing karaoke scene in this one and the supporting characters are all great. Obviously, the true stars of the show are Jasmine and Ashton, but it's always good when a book has a great supporting cast. Daira does a great job weaving Ashton's big secret into the story and the big reveal was perfectly timed and well done. This book does have its serious topics and moments, but overall it's a fun rom-com. If you ever watched Jane the Virgin, you would 100% love You Had Me at Hola. Even if you didn't, you'll still like this book if you are a fan of rom-coms, like me.
---
Book Read: A Lot Like Adiós
Author: Alexis Daira
2021 Book Count: 56
The Plot: Thirteen years ago, Gabriel Aguilar left the Bronx without looking back. That included leaving his best friend and secret crush, Michelle Amato, behind. Fast forward thirteen years and Michelle is working as a freelance graphic designer after burning out in her corporate life. Before she left the corporate world, Michelle led a major marketing campaign; one that caught the attention of Gabe's business partner. When Michelle is brought on board to help market the new location of Gabe's gym, their paths cross. Michelle agrees to work on the campaign on one condition - when in New York, Gabe stays with her. She is determined to figure out why he left thirteen years ago and never looked back. Meanwhile, Gabe finds himself in the last place he wants to be… right next door to his parents. As Michelle and Gabe work on the campaign, old feelings come back to the surface. But will things be different this time around?
The Review: I got sucked into this one too. When I first started reading it, I expected it to take a little longer than You Had Me at Hola. It was just the impression I got a few chapters in because it didn't capture my attention as quickly. Then bam! I was off and it ended up moving just as quickly as the other book. Michelle and Gabe's second chance love story was charming. I liked that Daira included their IM conversations from their high school days when they were writing fanfiction about a show that was cancelled. It tied in really well with everything happening in the present day (similar to the episodes in You Had Me at Hola). Plus, it added something extra to the backstory. Readers can read between the lines to see how each character was feeling. I honestly would like to be Michelle's friend. She was one tough cookie. Keep in mind, A Lot Like Adiós is a rom-com. It had everything I like about these types of books. It reads quickly, sucks you in, keeps you there, and has you rooting for the main characters the whole way.
Now, I'll patiently wait for the third book. I'm really looking forward to reading Ava's story, based on how much I enjoyed these first two.
---
Next Read: TBD.
---