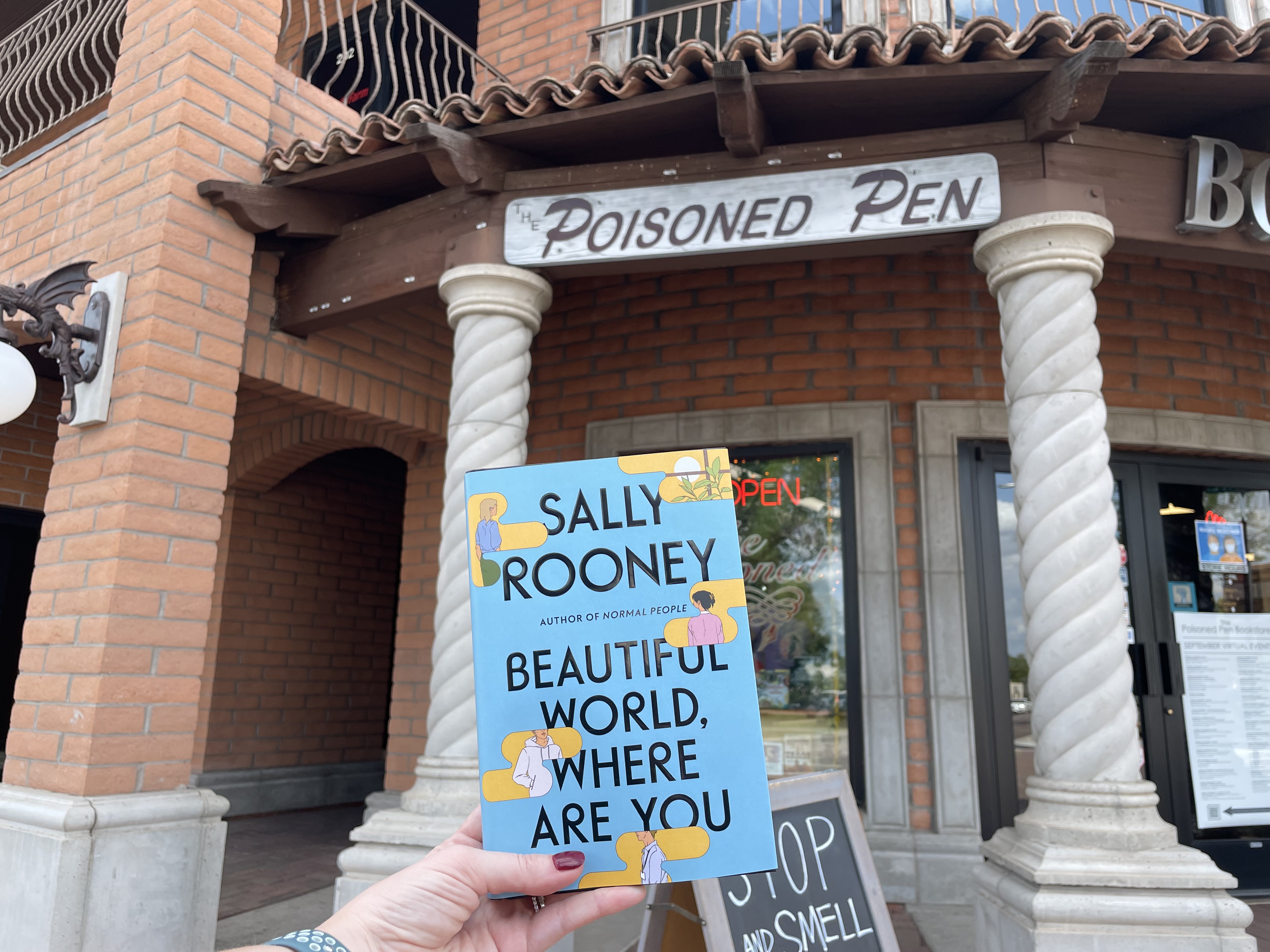 Whenever we travel, I try to find at least one bookstore to visit (and always end up buying a book there too). Earlier this year, I ordered two Kristen Ashley books from The Poisoned Pen Bookstore in Scottsdale, Arizona. When the package showed up, I was so impressed with how well packed it was! The books were completely protected. Not like when you buy a book from Amazon and they send it in a massive box that causes the book to move around the entire time. Since then, I've purchased another book from The Poisoned Pen. I expect I'll be buying many more.
While we were on our honeymoon, we Ubered to the actual store to browse. The store was AWESOME. The layout was cool, the displays were fun and there were so many books. If you are ever in Scottsdale, make your way there. Anyway, while there, I bought this next read. Now, I've finally read it and am ready to write about it here, as the last review of 2021.
---
Book Read: Beautiful World, Where Are You
Author: Sally Rooney
2021 Book Count: 63
---
In their late twenties, friends Alice and Eileen stay connected through emails as they both navigate through life. Alice, a novelist, has recently moved to a small rural village, where she meets Felix, a warehouse worker. After a not-so-great Tinder date, they find themselves meeting again and again.
In Dublin, Eileen is slowly getting over a breakup that she always wanted. She easily slips back into her on-and-off flirtation with her childhood friend, Simon. They can't seem to commit to anything more than flirting and sporadically hooking up.
Beautiful World, Where are You follows these four as they navigate through life, trying to figure out how they should live, how to find meaning in a troubled world, and how they all fit together.
---
I know I've said it before, and I know I'll say it again… why doesn't Sally Rooney use quotes?! I completely forgot how she writes, even though it was the exact same in Normal People and Conversations with Friends. The whole thing takes some getting used to when you first start reading. Eventually, you just go with the flow, but why? It just makes it harder to keep up when the conversation is just mixed in with what's going on in the background.
I've read all three of Rooney's books. I can easily say that, for reasons unknown, Beautiful World, Where are You is the one I liked the best. I'm not even sure why - I can't figure out why I liked it. I just did. Was it my favorite book? Gosh no. But I did enjoy reading it. Maybe I need to go back and read Normal People to confirm my theory on which I liked best, but I think this holds true (see - this is what this book does to you!).
I struggled writing the synopsis for this post. Even a few days after finishing it, if you asked me what it was about, I don't know if I could say more than: "Two friends, who call themselves best friends even though they seem to be terrible friends to each other, go through life. One moves to a different town, meets Felix. The other lives in Dublin and starts hooking up with her childhood friend. It's about them."
That would sum it up. I get that as you grow up, it's tough to stay connected with friends. But Alice and Eileen were just not good at it. Honestly, I couldn't get myself to like either one of them as characters. Felix - ugh, he was not great at all. I really only liked Simon because the guy seemed nice.
Overall, I'm glad I read Beautiful World, Where are You. Like I said, I liked it for who knows why. I'm sure at some point, I'll read it again. Recently, I've been doing a particular HIIT workout on Apple Fitness+, and the entire time I was reading this book, I kept hearing Anja the trainer saying "It's not easier, it's different." That's how I felt about this book.
---
Stay Tuned for the Annual Recap of Another Year of Books, 2021 edition. It's coming your way soon.
---