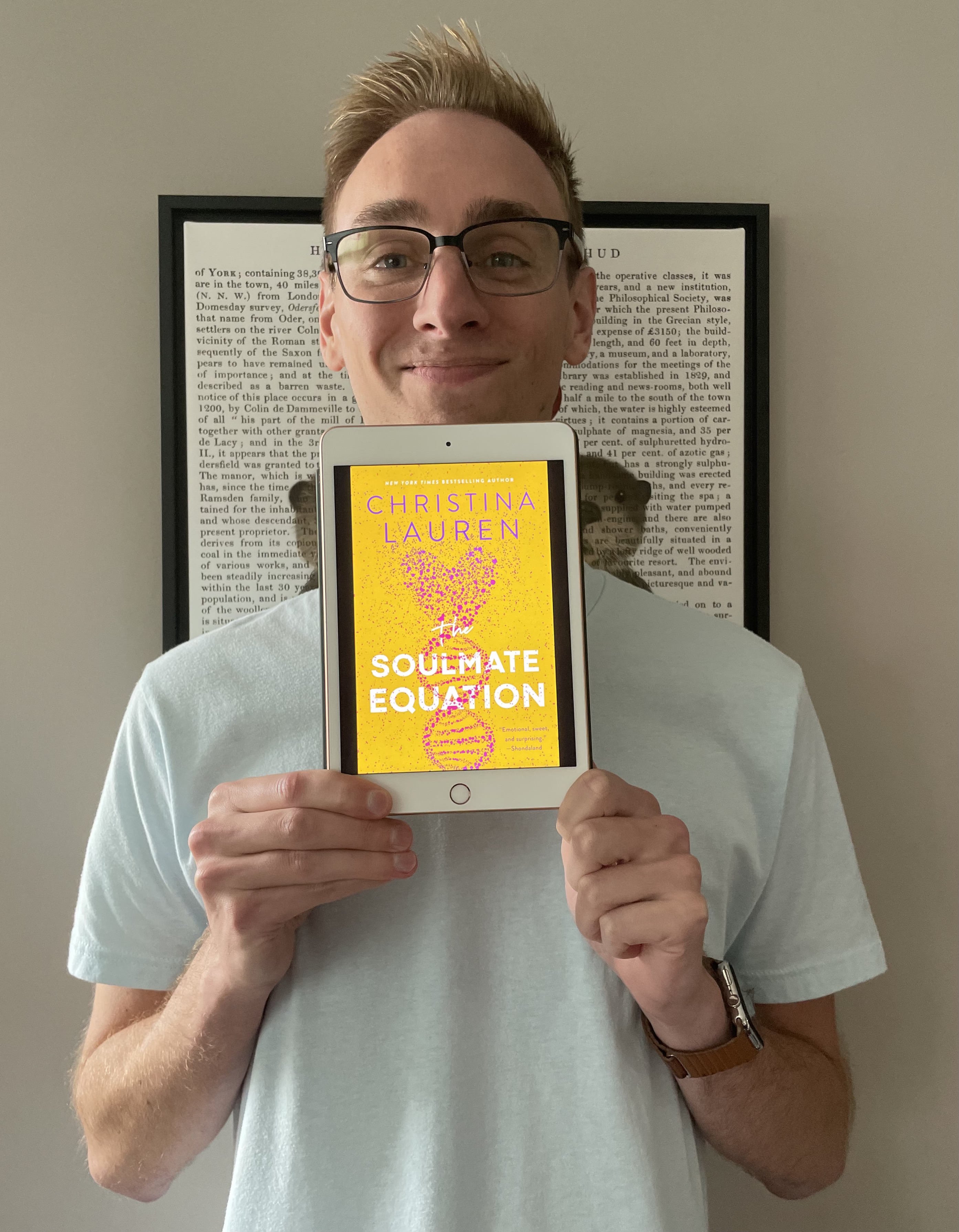 In nine days, Matt and I are getting married. We got engaged in October 2019 and planned to get married in 2021. Even with all of this crazy going on, it all worked in our favor and the day is almost here. What an adventure. I'm looking forward to it, but I won't lie … going to sit at a pool for a week afterwards is going to be great. I already have my Kindle books queued up and ready to roll.
---
Book Read: The Soulmate Equation
Author: Christina Lauren
2021 Book Count: 39
---
Single mom Jess Davis has been avoiding the dating world. She hasn't dated much since her daughter was born and she became a single mother. Jess's most recent first dates have definitely not been good.
One day at the coffee shop, she hears about GeneticAlly. It's a new DNA-based matchmaking company that uses numbers to match people. As a staticition, Jess can understand it. In a self-pity moment on her 30th birthday, Jess sends in her sample.
Then, out of nowhere, Jess has a 98% compatibility with GeneticAlly founder, Dr. River Pena. They've met before and did not get along. But GeneticAlly has never seen a 98% compatibility, so the company offers a proposition -Jess and River get to know one another, both in private and in public, and Jess will be paid.
As Jess and River get to know each other, Jess begins to see that her first impression of River might not have been accurate, and maybe, there is more to the scientist. After all, their DNA says they are a match, but can they trust the numbers?
---
I so wanted to read The Soulmate Equation way before I actually did. It came out in May and I wanted to purchase it then. But I made myself wait for my first trip; so in the airport waiting to board my plane to NYC, I started the book.
I finished it two days later. Yes, it helped that I was on a plane and in an airport for a period of time during those two days, but I really do believe I would've read it that fast anyway.
The Soulmate Equation was charming. I knew within the first chapters that I would really like it. I was right. When readers first meet Dr. River Pena, you can see why Jess didn't like him after their first meeting. He doesn't seem like he'll be fun at all. But as readers get to know River as Jess does, you'll be taken with him (and with Jess).
The secondary cast of characters, including Jess's grandparents, her daughter Juno, and her best friend Fizzy, all add something to the story. They are loving, entertaining, supportive, and great in their own rights. I especially liked Fizzy and her romance novel outlook. I LOLed at Jess and Fizzy's times together. Plus Juno just sounded adorable.
I've had only one miss with Christina Lauren (The Honey Don't List found here), but all others have been winners in my book. The Soulmate Equation is another winner. It's cute, it's humorous, it's romantic and it felt realistic. All around it's a good read.
---
Next Read: The Heart Principle by Helen Hoang
---