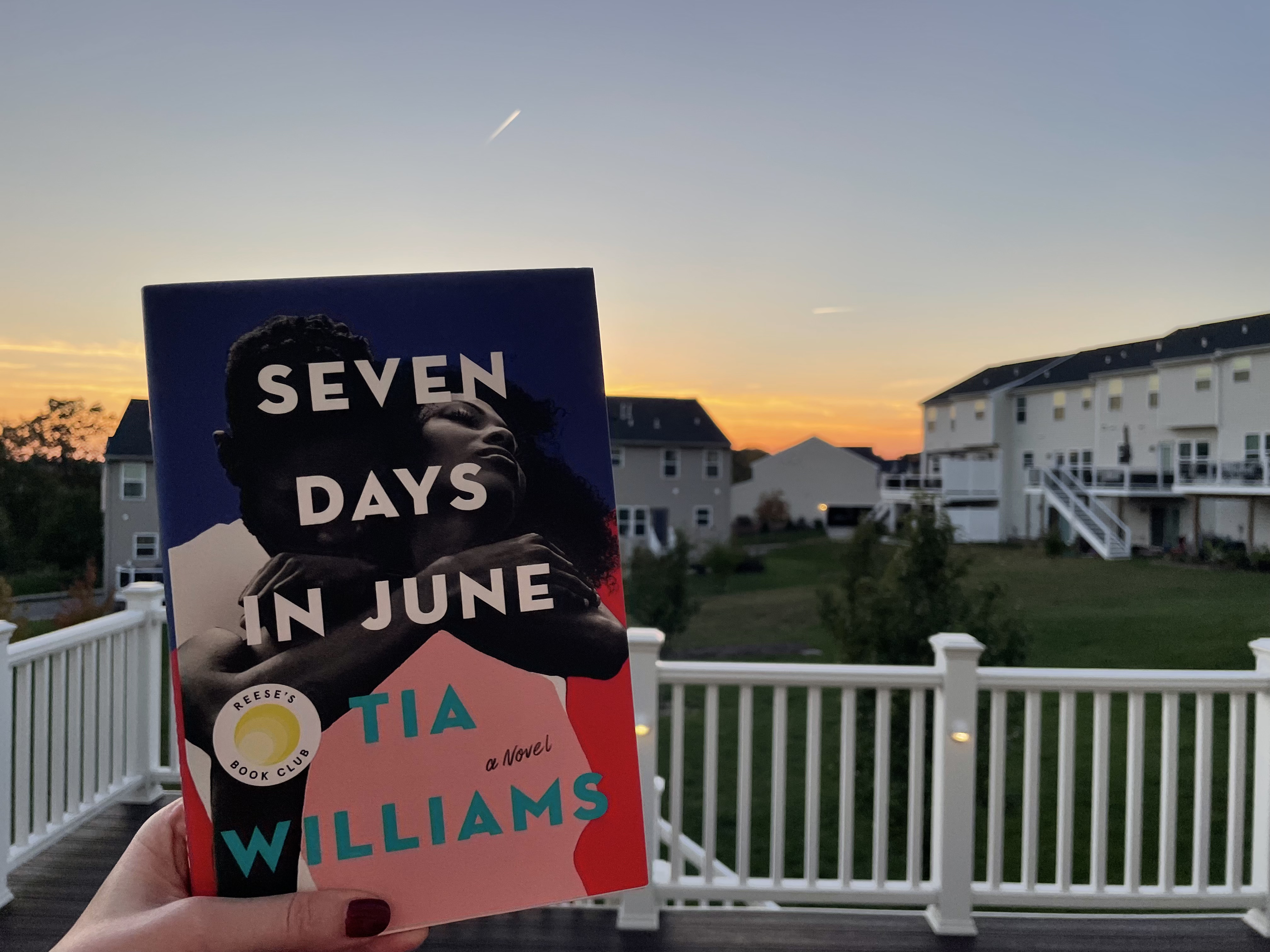 I meant to post this a few days after the last post. Time got away from me. But after a three week hiatus, AYOB is back!
I read this one back in mid-September after purchasing it during a summertime "Amazon has buy-two-get-one-free, must buy three books" purchase. These sales will get me every time. It's always a little tough to recap a plot after you've already read a handful of books in the meantime, but here we go!
---
Book Read: Seven Days in June
Author: Tia Williams
2021 Book Count: 44
---
Fifteen years ago, teenage Eva Mercy and Shane Hall spent one crazy week together, falling in love while rebelling against the outside world. It was a week neither have forgotten, especially how it ended. It's also a week neither talk about directly.
Now, both are bestselling authors. Eva, a single mom, is famous for her witch and vampire series that she started writing in her dorm room, trying to forget her week with Shane. To this day, Eva dreams, not of vampires and witches, but of writing the book she really wants to write. Shane has only ever been good at writing and bad decisions. Newly sober, he is struggling to write and has moved to teaching.
Unexpectedly, they meet at a literary event and despite pretending not to know each other, it's obvious to the audience there is a history between Eva and Shane. A few physical clues begin to clue readers into the secret writing as well.
Over the course of another single week, Eva and Shane begin to reconnect. Eva is wary based on their history, but she can't let Shane leave without some answers. Answers for which she has spent fifteen years waiting, all while Shane has spent fifteen years to explain.
---
I always worry when a book has a lot of hype. It could live up to it, or it could fall completely flat. But I also trust Reese's Book Club because it rarely leads me astray. I knew I wanted to read Seven Days in June as soon as I read the description. It sounded like it would be really good.
It was.
This is not your typical love story. Yes, it is a love story, but it is buried under family trauma, an invisible disability, addiction, and much more. Seven Days in June is so much more than Shane and Eva finding their way back to each other for another week. It's a story about them finding themselves at the same time. It's also a story of pain followed by healing. There is a lot packed into two short weeks, fifteen years apart.
Williams shifts the story from present day to fifteen years prior with ease. It never feels choppy, because it gives us readers the complete view into Shane and Eva's connected past. It showed that Williams wanted readers to understand what shaped both Eva and Shane into the people they are in the present. The past is emotional, that's for sure.
I couldn't put this down. It's been a little while since I read it, but I'm pretty sure I finished it in three sittings. I texted Meghan at one point to tell her it was "really good." Always a good sign when you pause from reading to tell someone else about a book. Then, I was right back to reading.
Seven Days in June will suck you in. I felt like I was right there walking the High Line with Eva and Shane. It has heart, It has realism, and it has substance. This is a romance novel with depth and is worthy of a read.
---
Next Read: AYOB went on a honeymoon. Stay tuned for the books I read while traveling!
---