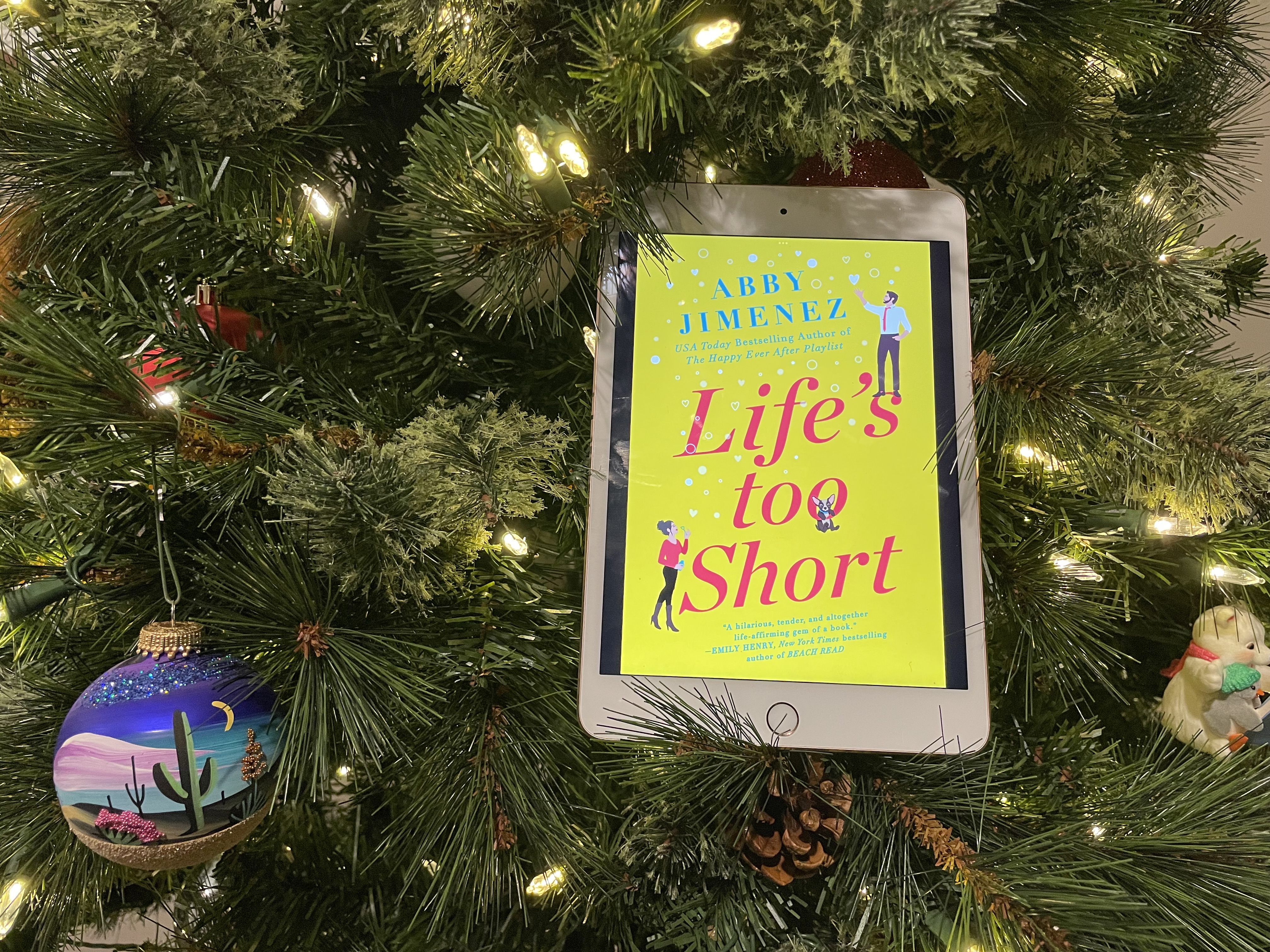 The first day of winter… here already. I can't believe it. Maybe I could if the weather wasn't so wonky. One day, I need my winter coat; the next, it's 55 and sunny. I can't keep up. That's probably why (plus many other reasons) that I rather stay inside. If it's too hot or cold in our house, I don't have to point to climate change or blame Mother Nature. I only have to blame Matt.
---
Book Read: Life's Too Short
Author: Abby Jimenez
2021 Book Count: 61
---
When Vanessa Price reached her twenty-sixth birthday, she quit her job to travel the globe. Her mother and sister both didn't live to see the age of thirty, and Vanessa decided she was going to seize the moment, no matter how many years were left. As she traveled, she became a YouTube star, with millions of followers.
Every time her family needs her, Vanessa comes home. This time, her half-sister leaves Vanessa with custody of her baby daughter. One night, nothing will stop Grace from crying. The last person Vanessa expects to be knocking on her door is Adrian Copeland. They've never met; Vanessa only knows him as the hot lawyer who lives in her building. She definitely didn't expect him to be some sort of baby whisper.
Following that night, Vanessa and Adrian, along with Grace and Adrian's foster dog, start spending a lot of time together. Vanessa's life motto of living every day to the fullest begins to rub off on Adrian. The next thing he knows, they are binge watching The Office, traveling for Christmas, and living life for the moment.
But Vanessa is not that far off from her thirtieth birthday. History tells her it's not a day she'll see; but being with Adrian is making her hope for the future she never thought possible.
---
Abby Jimenez has published a new book in The Friend Zone series each year for the past three years. I have read each of them: The Friend Zone came out in 2019; The Happy Ever After Playlist came out in 2020. Here we are with the 2021 book - Life's Too Short.
While Adrian makes a brief appearance in The Happy Ever After Playlist, this story is pretty much a standalone. The main characters from Jimenez's other books do pop up for a chapter or two, which was a nice surprise. I like that each book in this series can stand on its own two feet, but reminds you of the great ones you've already read.
Life's Too Short is optimistic, yet pessimistic; heartwarming, yet heartwrenching; light, yet heavy. Vanessa's family history is a really heavy topic. When we meet her, she is focused on her death. Whether it's making plans for her family, making sure they are financially stable, or finding a home for Grace, she's always preparing for the "after." This part of the storyline was so important. While at times, it would disappear for a moment, it would always come back. But that's what this book is about - living life for the moment.
I really enjoyed the opposite attracts vibe in this one. Adrian and Vanessa are completely different. I liked that Adrian was taken so off guard by Vanessa and her personality. It was cute. It made for some great adventures. I was completely invested in their story.
Jimenez gives readers another rollercoaster of emotions read with Life's Too Short. It still is, at its core, a rom-com, but it is so much more than that. You'll find laughter, sadness, happiness and most importantly, heart at every turn.
---
Next Read: Beautiful World, Where are You by Sally Rooney
---