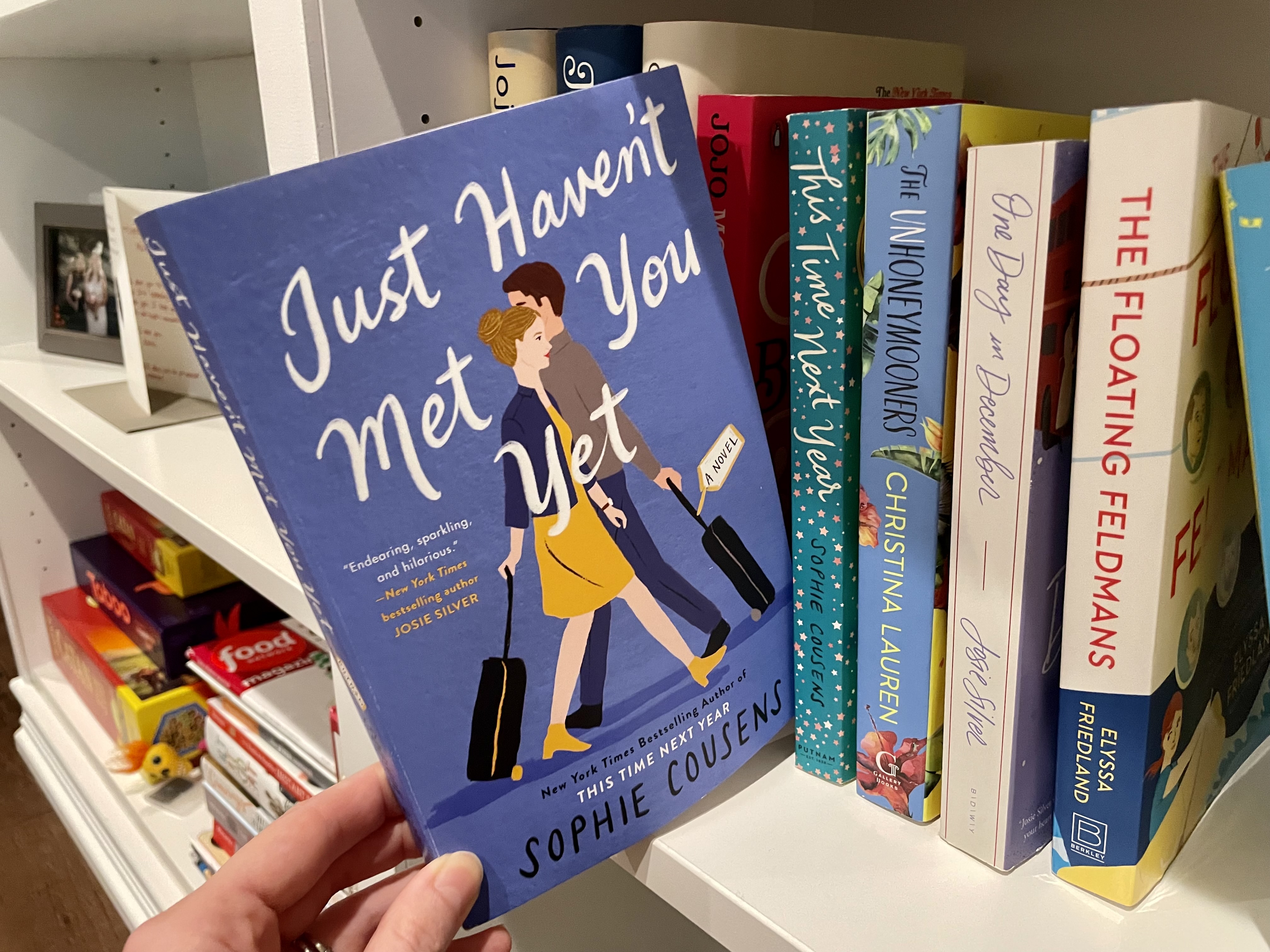 I didn't do much shopping over Thanksgiving weekend. I bought a few clothing items, a couple of gifts, and that was pretty much it. But on the Sunday after Thanksgiving, after we watched Part 1 of Get Back on Disney+ (I'd highly recommend watching this - it's a time commitment but worth it), I was in the mood to go to Barnes and Noble. Mostly, I wanted to browse because that's always a good way to add to your TBR list; but I knew I'd buy at least one book. I ended up with two. Then, I came home and started reading this next book.
---
Book Read: Just Haven't Met You Yet
Author: Sophie Cousens
2021 Book Count: 59
---
Laura is a hopeless romantic; her current job is to interview couples about their meet-cutes. But Laura hasn't been lucky enough to experience one of her own. She's still hoping for that big moment.
Then, on her way to the Channel Islands, she runs smack dab into the most attractive man she has ever seen. Later, she grabs the wrong suitcase from the airport. The contents describe Laura's dream man. But who is he and how will Laura find him?
With the help of cab driver Ted, Laura sets off to find her mystery man as well as discover the place where her parents met. After all, she is on the island to write about their romance for her online magazine. As Laura looks for a meet-cute of her own, she'll discover family secrets that change everything she's always known. She might also find that love might not all be about the meet-cute.
---
The first book I read in 2021 was Cousen's This Time Next Year. I enjoyed it - it was cute, likeable and a great start to the year. When I saw that Cousens had a new book out and the synopsis sounded promising, I knew I had to read it.
And read I did… in three days, which is the same amount of time it took for This Time Next Year. I am sensing a trend here. There is even a quick mention of the characters from This Time Next Year in this one - it's very brief but I liked how Cousens dropped it in.
Just Haven't Met You Yet was charming, thoughtful and funny. Not only are Laura and Ted enjoyable protagonists, but the other secondary characters helped make the book. There was Gerry, Ted's dad, who lives for the day rather than focus on his disease; Jasper, who is so likeable that you can't find much wrong with him except he really loves kitchens. Then there was Belinda, who you loved to hate, and Suki, who you felt the exact same about. Each character brought something to the book.
Laura was relatable, easy to like, and easy to root for. She's optimistic, despite all the hands life has given her. She's down to earth and very likeable. As a main character, she is great.
If I had one small complaint, it would be that this book takes place over about a week. A lot happens during that single week, which doesn't seem realistic. But then again, are rom-coms always completely, 100% realistic? No. But isn't that one of the reasons we read them?
Sophie Cousens is two for two with Just Haven't Met You Yet. I look forward to whatever she writes next.
---
Next Read: Dream Keeper by Kristen Ashley
---