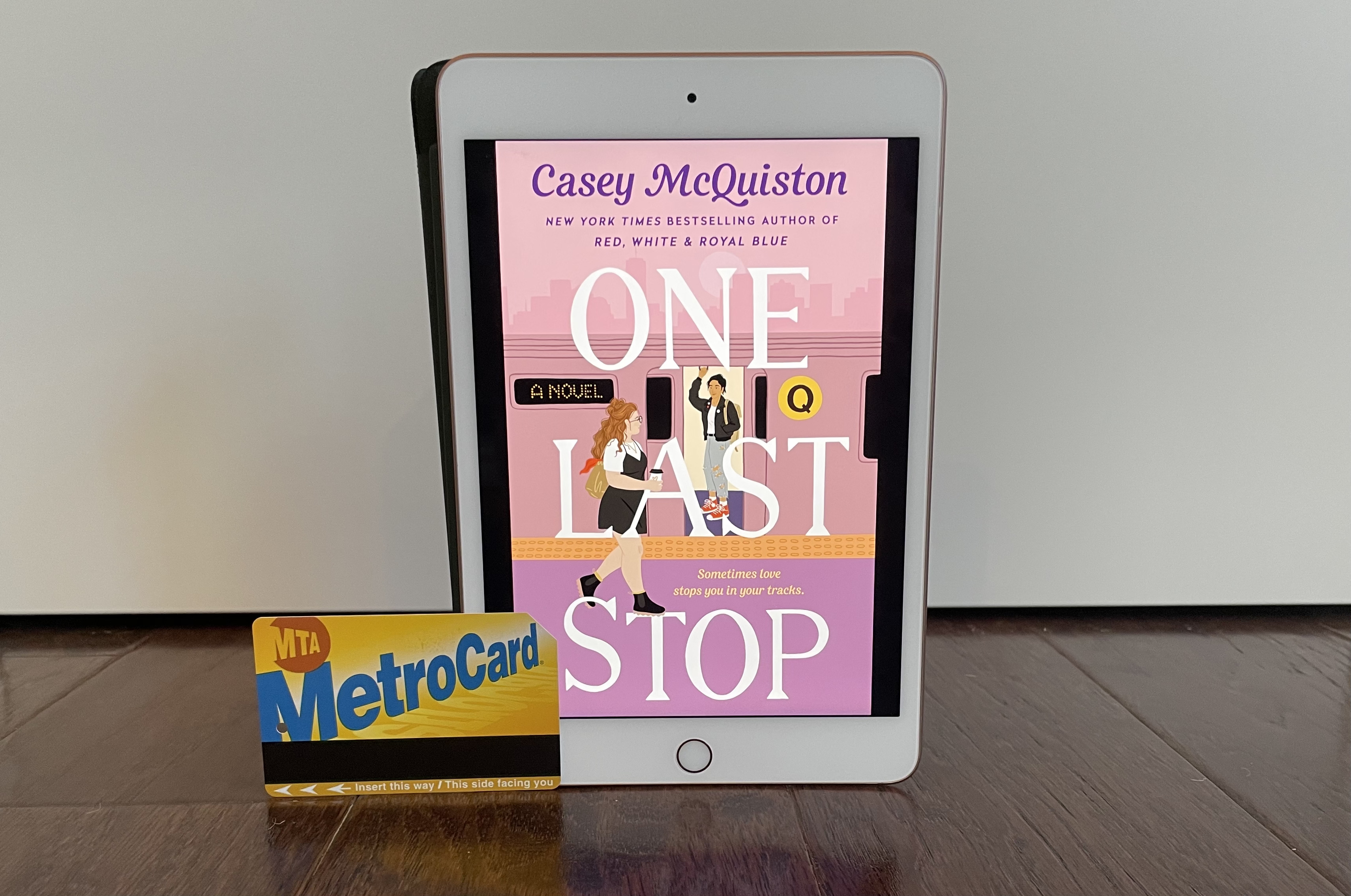 It seemed well timed that I finished this next book on the same day I was flying to New York City. I didn't ride the Q when I was there (or at least, I don't think I did. I just follow Meghan when she leads), but we did ride a lot of trains. Most importantly, we went to an All Time Low concert. Live music is great.
---
Book Read: One Last Stop Author: Casey McQuiston
2021 Book Count: 38
---
August is a drifter. She has moved from school to school looking for something. Her latest stop is New York City. She is a cynic looking for herself. After moving to the city, August finds herself with quirky roommates and a job waiting tables at a 24-hour pancake diner.
Then, one day on the train, she meets Jane. Jane is always on the train, wearing the same outfit, dazzling commuters. August develops a huge crush. It's reciprocated.
One day, it clicks for August. Jane is displaced in time and has been since the 1970s. She has little recollection of how she got there and her past. August needs to dig into her own past, a past she wanted to leave behind, to help Jane, no matter the outcome.
---
I added this book to my TBR list because I really enjoyed McQuiston's Red, White and Royal Blue. I didn't write about that one when I read it but I liked it. It was juicy, dramatic and risque. I'd recommend it for sure.
I knew going into it, that O_ne Last Stop_ had a unique premise. It intrigued me enough to add it to place it on hold at the library and wait months. It wasn't worth that long of a wait.
I didn't mind reading One Last Stop, but I also didn't love it. I couldn't get past the time traveling part, no matter how much I enjoyed the rest of the story. For some books, I can deal with time traveling, but for this one, I couldn't. It turned me off of the rest of the story. I kept reading because I wanted to see how it was going to end, but it wasn't a book that I wanted to sit and read for hours.
This novel has a lot of hype. It didn't live up to it for me. My exact words to Meghan were "It was different. I think I liked it." I'm glad I borrowed a copy from the library rather than buying the Kindle edition. I'd highly recommend reading Red, White and Royal Blue over this one.
---
Next Read: The Soulmate Equation by Christina Lauren
---