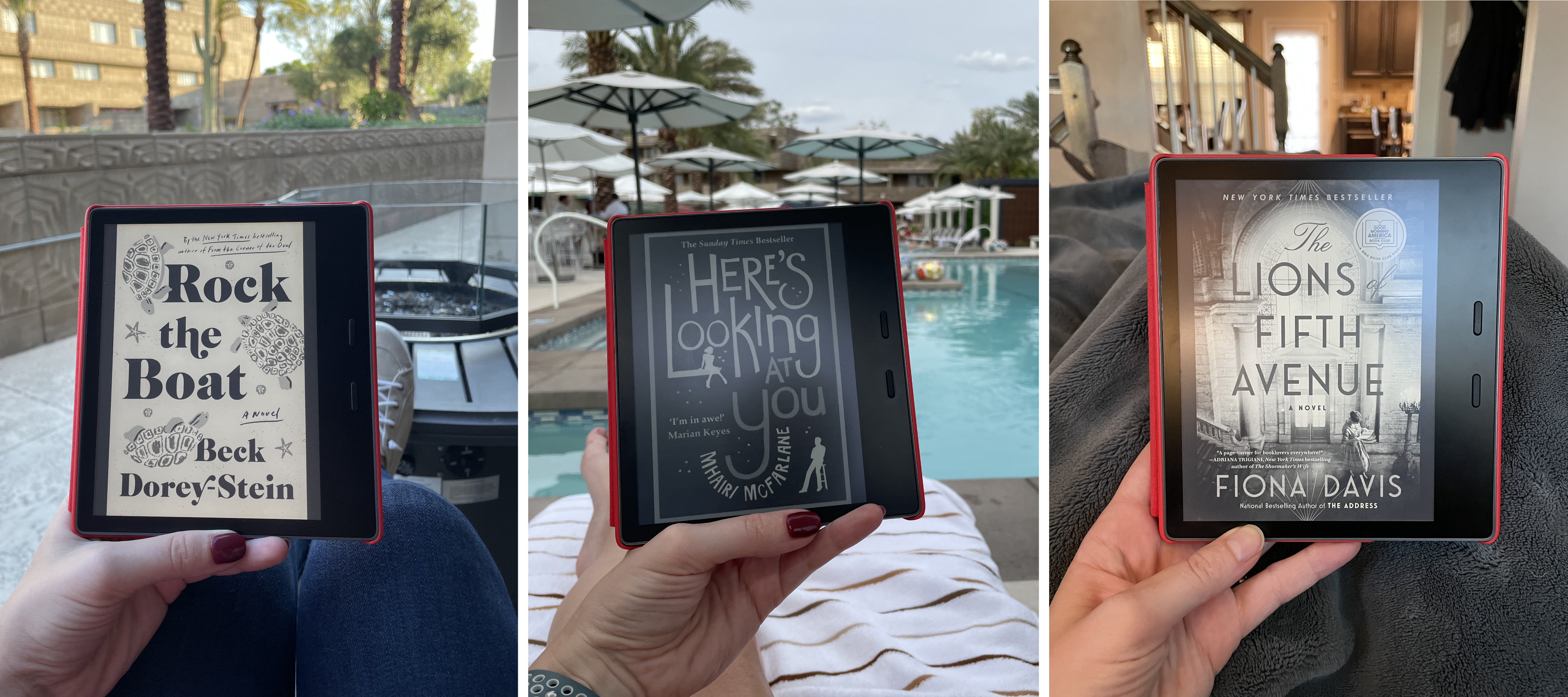 On September 24, Matt and I did a big thing - we got married! It was great. Then, a couple of days later, we set off on a honeymoon. We planned to sit at the pool, relax and just enjoy ourselves. Of course, I was armed with my Kindle with multiple books downloaded and ready to go.
I started this first book on our first flight and finished the last the day after we got home. Rather than share three separate posts, I decided to combine all three books into one "AYOB Goes On a Honeymoon" event.
---
Book Read: Rock the Boat
Author: Beck Dorey-Stein
2021 Book Count: 47
The Plot: Kate Campbell woke up thinking her life would change. Later that morning, it did, but not in the way she hoped. Instead, she finds herself back home in Sea Point, a small beach town. But Kate has a plan to get back to her Manhattan life. Meanwhile, Ziggy Miller, Kate's neighbor, has unexpectedly taken on a family business without knowing anything about running it financially. His childhood best friend, Miles, has come home to prove his worth for taking over the family business and to help Ziggy. As the three close in on Sea Point, the town itself is going through a crisis; a developer is trying to cash in without a care for the town itself. As the summer goes on, long-buried secrets and white lies will be revealed. Friendships will be threatened; a party will end the summer. The town of Sea Point, plus Kate, Ziggy and Miles, may never be the same.
The Review: I wanted to read this book because I really enjoyed Dorey-Stein's From the Corner of the Oval, her memoir of her time in DC. I was interested to see how she did with fiction. I'd categorize this book as "just fine." I wasn't overly impressed but I also wasn't disappointed. If I had to rank this book using stars, I think I'd give it a middle-of-the-ground 3. At times, it felt choppy. Other times, it moved with grace. Then, we were back to choppy. It didn't make for the smoothest read. But, given this is Dorey-Stein's first fiction novel, I'm definitely willing to give her another chance. If I were you, I would definitely read her non-fictional From the Corner of the Oval. It crushes this one.
---
Book Read: Here's Looking at You
Author: Mhairi McFarlane
2021 Book Count: 48
The Plot: Anna Alessi has come a long way since her final humiliation in high school. With a job she loves and friends she adores, she doesn't even mind the crazy dates she's been experiencing. Well, she doesn't completely mind them; she would love to find the one. Following a dreaded class reunion where no one remembered her, James Fraser suddenly walks back into her life. He doesn't recognize Anna, but she definitely remembers James's involvement in that high school moment. But the James of now doesn't seem like the James of yesterday. He seems like a changed man. Can Anna trust the changes and see James in a new light?
The Review: If I had to rank the books I read while away, I'd rank this one third. It also falls into the "just fine" category. It definitely passed the time while sitting poolside. If I had been reading this while not on vacation, it would've taken me a heck of a lot longer. It was slow moving; I'd be reading for a while, thinking I had made a serious dent, and would realize I only read 15 pages. I kept waiting for things to pick up but they never did. I powered through to get through the drawn out ending. Overall, not the best book I've read but it passed the time.
---
Book Read: The Lions of Fifth Avenue
Author: Fiona Davis
2021 Book Count: 49
The Plot: In 1913, Laura Lyons wants more than her current life offers. Yes, she adores her family and their life at the New York Public Library where her husband is superintendent. But something is missing. When she applies and is accepted to the Columbia Journalism School, Laura's world is forever changed. She begins to question her traditional role in the household. When rare books are stolen from the library, her home life is threatened. Laura will need to face her changing priorities, but she might sacrifice all that she knows at the same time.
In 1993, Sadie Donovan is working as a curator at the same library where her grandparents lived. She has always struggled with her grandmother Laura's legacy, especially when her mother has never said much about Laura and their time in the library. Then, rare items begin disappearing from the Berg Collection, the exhibit Sadie is in charge of. Sadie is determined to get to the bottom of the missing items, both to save her career and to save the exhibit. But, as Sadie investigates with security expert Nick, it all becomes very personal as it all leads to truths about Sadie's family's past as well as truths about the biggest mystery in the library's history.
The Review: This book sucked me in. I read this in two days, mostly because I did nothing but read for four hours on a plane. Keep in mind, I could've spent some of that time watching the shows I downloaded to my phone. I really think I would have read it this fast if I spent the whole day at home, because I just could not put it down. I had to know how it ended for both Laura and Sadie as quickly as possible. Both time frames were so intriguing on their own, they probably could have been standalone novels. But having them as part of one intertwined story made this even better. You'll find yourself in the room with Laura as she begins to open her eyes to a bigger world; you'll feel the same when Sadie is in a rare book store looking for the stolen goods. The Lions of Fifth Avenue is a story of family ties, big dreams, mystery and truths. It's a page turner that will keep you reading.
---
Next Read: While We Were Dating by Jasmine Guillory
---