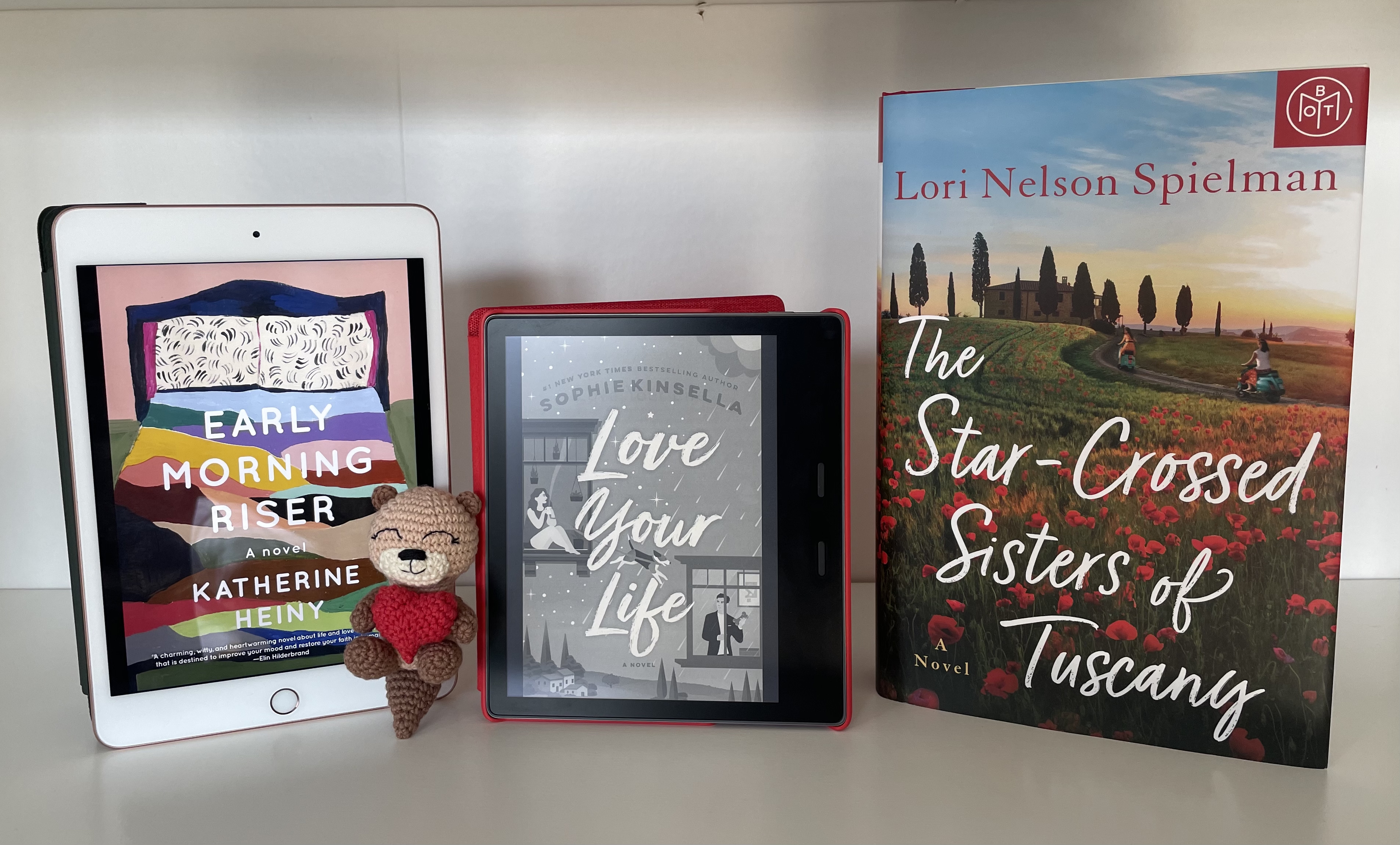 I debated writing about the first two of these three books. I wasn't feeling it; not because I didn't like the books, I just didn't feel like writing about them. I also read them in pretty quick succession. As I was reading The Star-Crossed Sisters of Tuscany, I had the same thought. I liked the book, but I didn't want to dedicate an entire post to it.
Then, I had an idea - I'll write a small blurb about all three and put them in one post. That way, I get to talk about them, you get to read about them, and I don't feel like I'm skipping a good amount of books on here. So without further ado, three books… one post.
---
Book Read: Early Morning Riser
Author: Katherine Heiny
2021 Book Count: 26
The Plot: At the age of 26, Jane meets Duncan. They fall in love easily, but loving Duncan comes with a good amount of baggage. He's slept with nearly every woman in their small town (plus a good amount in nearby towns). Jane can accept that everyone has a past, but with Duncan comes Aggie, his ex-wife, Jimmy, his co-worker, and Gary, Aggie's husband. It's not easy to have a relationship with so many people. One car crash changes everything. Jane's life is forever mixed with Duncan's, Aggie's and Jimmy's. Over the course of seventeen years, Jane will be thrown curveball after curveball and will continue to share Duncan along the way. But happiness has a way of always creeping in when you least expect it.
The Review: I am having a hard time explaining why I liked Early Morning Riser. I did like it, but I am still not 100% sure what it was ultimately about. Mostly, it seems like a story about life. It's a love story about Jane and Duncan just as much as it is a love story about Jane and Jimmy. It's warm, deadly serious at times, charming, funny, and full of life. It spans 17 years (it doesn't go year by year; it instead skips years and jumps ahead), but it does it well. Readers can follow Jane's, Duncan's, Jimmy's and everyone else's lives with ease. It also had Taco Tuesday, so that's a win! I'm still not sure why I liked it, but I did.
---
Book Read: Love Your Life
Author: Sophie Kinsella
2021 Book Count: 27
The Plot: After a dating app fiasco, Ava decides it's time to finally finish that novel she's been meaning to write. She travels to a writers' retreat in Italy, where no one can use their real names or reveal any personal information. There, "Aria," aka Ava, meets "Dutch." They find themselves in a baggage-free love affair. But real life catches up to them after they return to London. Matt's, aka "Dutch", life is completely different than Ava's. As the days pass, they find out how different they are. Love keeps them together, but the rest of life - it seems to want them apart. Can they find their way?
The Review: I've kept up with Kinsella's recent books so I automatically added this one to my TBR list; I finally got to it (just in time to add her next book to the list too). I read Love Your Life in 4 days. It was a mindless read; the supporting characters were fun. I will admit that Ava is frustrating at times, especially at the beginning. I wanted her to stop thinking so many "this will be great!" thoughts and dial down the optimism. But I got over it, and ultimately enjoyed the book. This one is definitely not Kinsella's best, but if you are looking for a quick, cute read, pick this one. Don't expect to be wowed, but you'll enjoy it.
---
Book Read: The Star-Crossed Sisters of Tuscany
Author: Lori Nelson Spielman
2021 Book Count: 28
The Plot: Emilia Fontana doesn't mind that she's the supposedly "cursed" second daughter. She doesn't believe in the curse that's supposedly been around for two hundred years, but it's a good reason to avoid the dating scene. It helps her avoid a difficult conversation with her best friend. Her cousin Lucy is determined to break the curse and is desperate to do so. Emilia's Aunt Poppy promises to break the curse if both Emilia and Lucy accompany her to Italy, where Poppy will meet the love of her life on her 80th birthday. Together, the three women embark on a trip of a lifetime, where the story of Poppy's past begins to mix with their present. Truths will be discovered, life-long dreams are realized, and happiness is just around the corner.
The Review: This one started off slowly; I definitely had some trouble getting into it. Then bam! A turning point. By the end, I really enjoyed The Star-Crossed Sisters of Tuscany. It was charming; it was descriptive; it was emotional. Told both in the present and in the past, Spielman gives a complete picture of the Fontana women's lives. Readers will never feel like they are missing a piece to the puzzle. Each character is unique, and looking for their place. I enjoyed Emilia finding her courage and her history, Lucy discovering it's more than okay to completely be herself, and Poppy was just a joy the whole time. You felt for Poppy in the past, but appreciate her ability to accept her actions. She mentors both Emilia and Lucy, giving them the wisdom and outlook they both needed. Despite the serious doubts I had by the time I made it to page 50, The Star-Crossed Sisters of Tuscany was an overall delightful read.
---
Next Read: Is This Anything? by Jerry Seinfeld
---