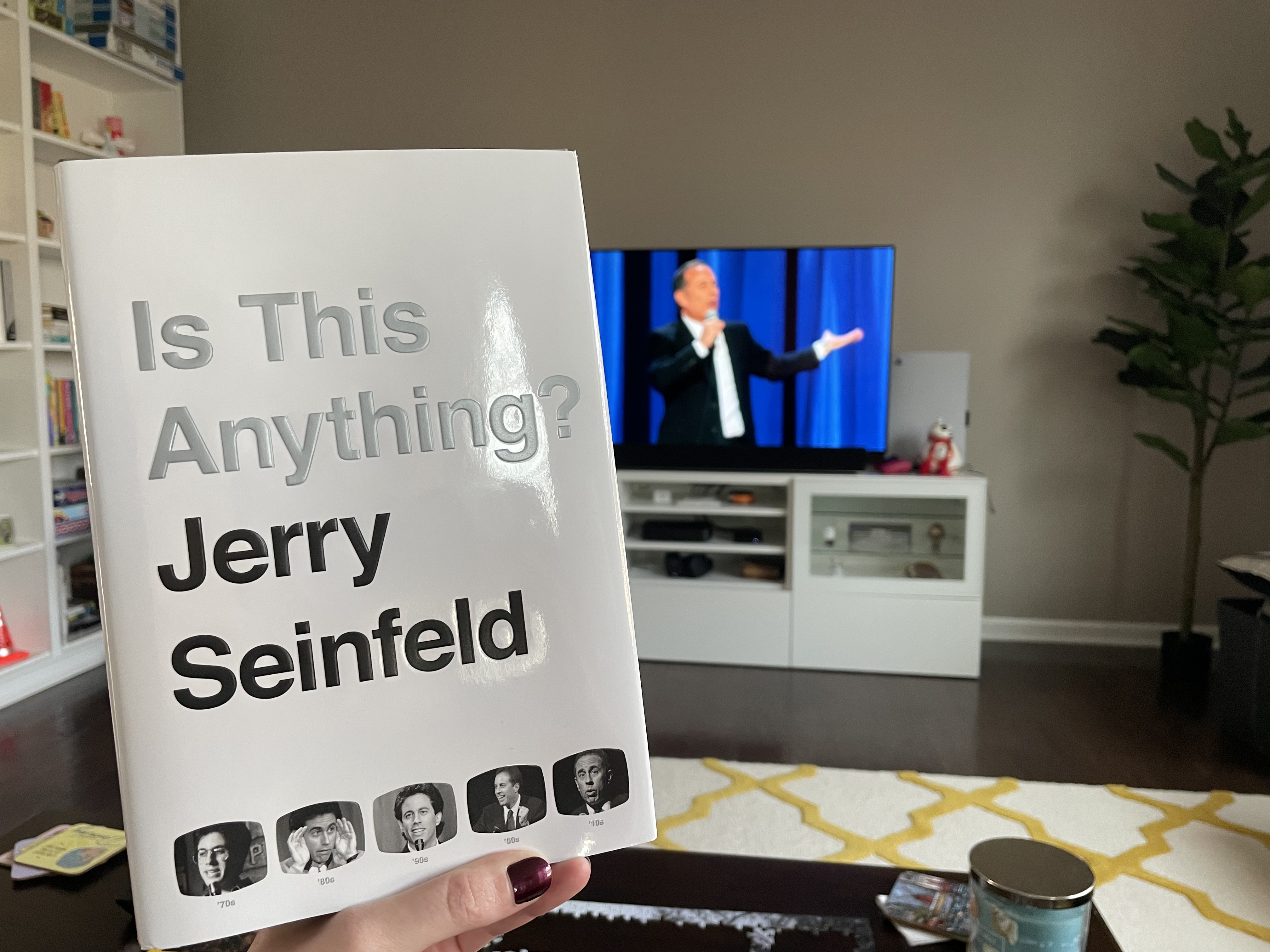 In 2018, we bought tickets to see Jerry Seinfeld in Pittsburgh in early 2019. I knew of him (of course - who doesn't?), had seen Comedians in Cars Getting Coffee, but had never seen much of Seinfeld. We decided that we would start watching the show from the very beginning. At first, we had a lofty goal of finishing the sitcom before we went to the live show. That was a REALLY lofty goal; I mean there are 9 seasons and 180 episodes. It's a time commitment. I think it took us over a year to finish all 9 seasons (we are slow when it comes to watching shows). By the end of the 9 seasons, I loved it.
---
Book Read: Is This Anything?
Author: Jerry Seinfeld
2021 Book Count: 29
---
Is This Anything? is a collection of saved material from the man himself. It is not an autobiography; it's not a memoir. Instead, it's four decades of material, organized by decade. Starting in the 1970s and ending in the "teens" (2010s), Seinfeld gives a quick background of the decade before readers are immersed in material.
(This one is hard to summarize, because it really is just a book full of stand up and I don't want to give much away.)
---
The key to liking this book is liking Jerry Seinfeld. If you don't like his comedy, skip this book. If you do like his comedy, definitely read this one. It's as simple as that!
At this point, it's been 2.5 years since we saw Jerry Seinfeld live. I remember laughing the entire time we were there. Exactly what was said? I remember only bits and pieces. Then, I read this book, and the show we saw started coming back to me. It was great to reread the material that we saw live. I vaguely remembered a rant about Pop-Tarts. It showed up on the page. I also recall a discussion on things sucking. That showed up too. Being reminded of the great show we saw way back when was the best part of Is This Anything?.
The rest of it was good too. I even told Matt about some of the funnier parts because I had to tell someone. Even material from decades ago, still applies now (or it might apply even more).
(Hint: you can watch Seinfeld's Netflix special, 23 Hours to Kill, to see the show we saw in 2019. We've watched it a few times since, and it is still as funny as ever).
Is This Anything? is humorous, quick, and easy to read. You'll end up reading an entire decade in one sitting and will laugh the whole way.
---
Next Read: Much Ado About You by Samantha Young
---