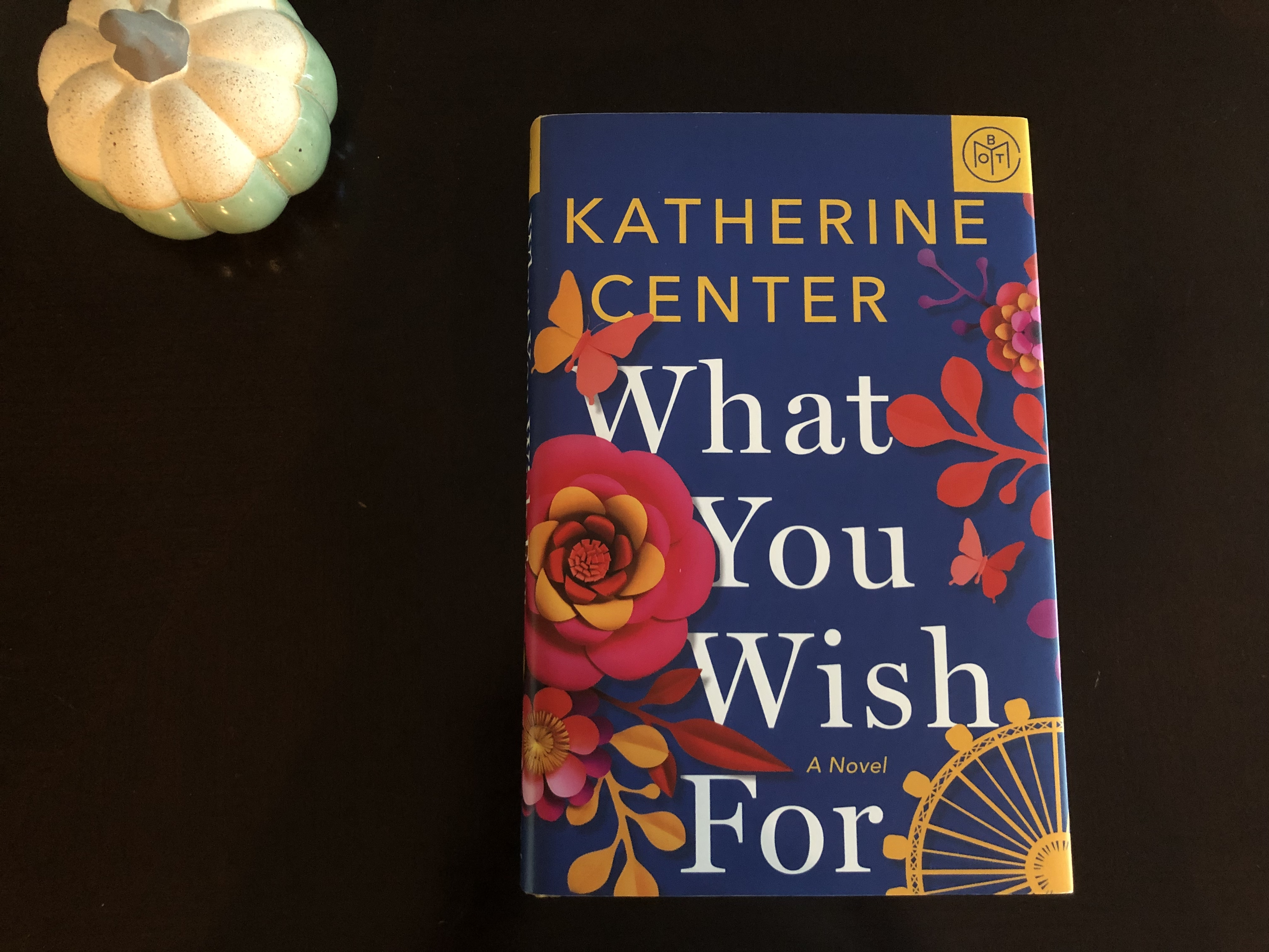 After the last read, I was looking for a book I knew I would enjoy (or one that I guessed I would enjoy - you never know how things will turn out). This next read was a loan from my sister, who happened to visit just before I needed a new book to read. The author is also a three-peater on Another Year of Books.
---
Book Read: What You Wish For
Author: Katherine Carter
2020 Book Count: 44
---
Samantha Casey found her dream job as a school librarian in Galveston, Texas. She finds a joy for living that she hadn't always felt, full of color and fun (including pink bangs). When a tragedy strikes her school, Sam is excited to learn Duncan Carpenter, who she knew from her previous job, is taking over as principal. Duncan was a fun loving, crazy pant/sock wearing teacher who everyone loved. Sam thinks Duncan is going to be the best thing for the school, but she is far from right.
Enter the new Duncan, who is the complete opposite from what Sam remembers. He is now a suit and tie wearing, rule enforcer, and rule follower. Rather than embracing the fun side of the school, he is set to change the school into the safest school in the country. That includes painting over butterflies, making things as transparent as possible, and strict rules around the campus. Sam can't believe this is the same Duncan she knew years before and sets about changing his ways.
Together, Sam and Duncan will need to find who they truly are, to take chances, and to not be afraid of tomorrow. Will they be able to move out of the dark into the light? Read What You Wish For to find out.
---
I read this book in two days. When I started reading it one Sunday morning, I found myself wanting to read it all day. Unfortunately, I did have to put it down at one point to go to bed, but I picked it back up on Monday night and finished it quickly.
I have read three of Carter's books. For the previous two, I liked one (How to Walk Away) more than I liked the other (Things You Save in Fire). What You Wish For might be my new favorite. It moved quickly, the characters were enjoyable, and I couldn't stop reading. All good qualities for a great book.
This one was not as corny as Things You Save in Fire thankfully. This book had the perfect amount of Hallmark-esque moments mixed with serious times. My favorite scene is when Duncan is highly medicated following a minor surgery. The scene is pretty entertaining and made me laugh out loud with the amount of honesty that is revealed.
Carter has a great mix of serious and fun and gets you completely invested in her characters. Sam used to feel invisible to everyone around her, but is trying to bring color into her life, whether it's with her pink bands, fun socks, or just her outlook on life. She wants Duncan to do the same. After learning Duncan's reasons for being the rule enforcer he has become, you'll be rooting for Duncan to move out of the dark into the light.
What You Wish For is an emotional story about choosing joy in life even after the darkest of times. It's a book worthy of your "to read" list.
---
Next Read: 28 Summers by Elin Hilderbrand
---