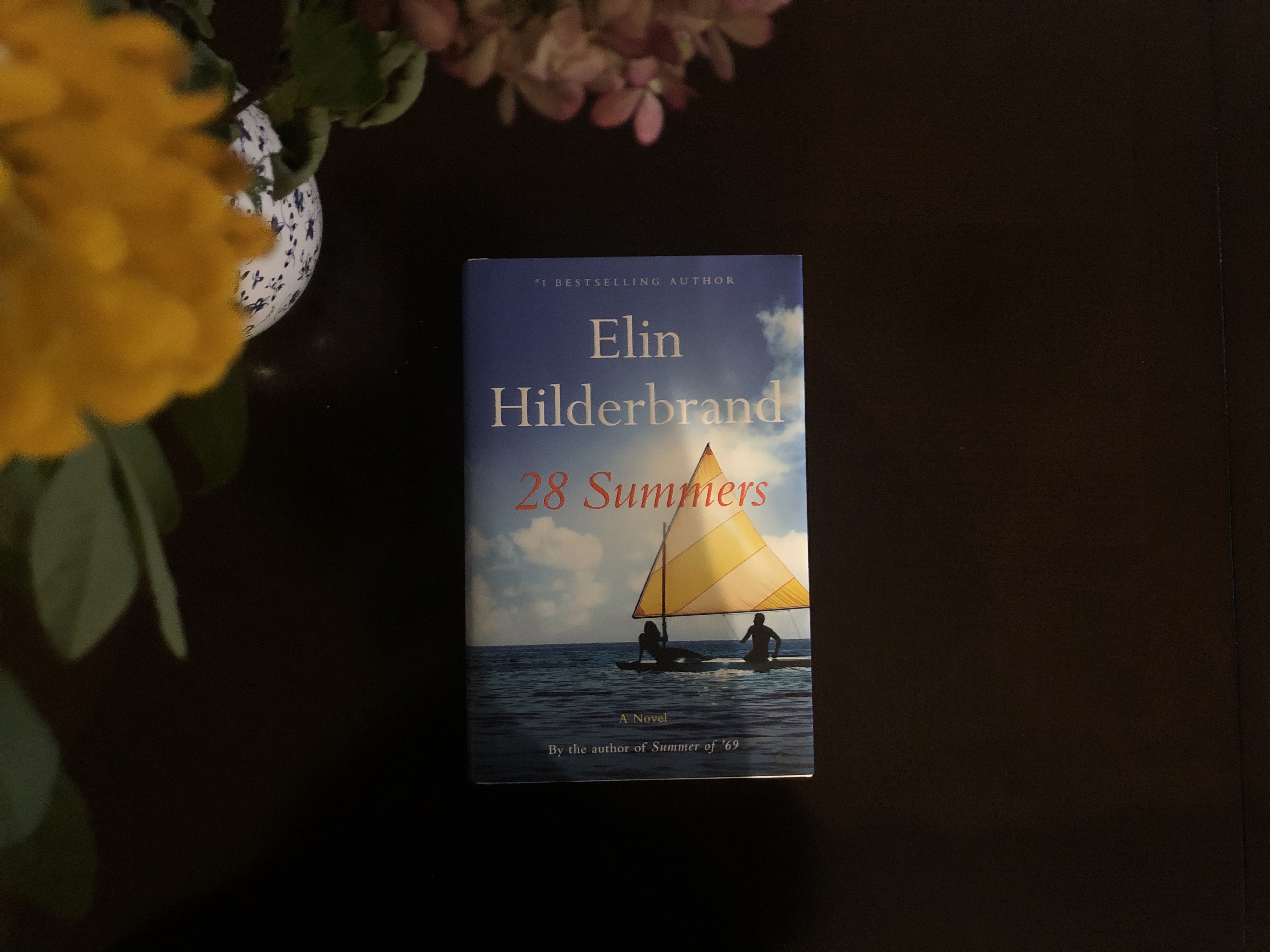 At the beginning of every chapter in this next read, Elin Hilderbrand starts with a paragraph describing what people were talking about each year. Let's do the same.
What are we talking about in the beginning of October 2020?
The debate. COVID-19. How did the weather go from 80 to 65 so quickly? When it is acceptable to decorate for Halloween? The Great British Baking Show (maybe that's just me). Is Hallmark again starting their Christmas movies too soon? (The answer is yes.) How many times can you watch Hocus Pocus in the next month? (The limit does not exist.) Say Her Name. Vote. Vote. Vote. Vote (in any way you can).
---
Book Read: 28 Summers
Author: Elin Hilderbrand
2020 Book Count: 45
---
In 1993, Mallory inherited a beachfront cottage in Nantucket and is hosting her brother's small bachelor party. There, she finally meets Jake McCloud, her brother's frat brother whom she's talked to over the phone. When everyone else leaves, Jake and Mallory form a bond that never seems to break.
That first summer together, they make a decision. Jake will come to Nantucket once a year for Labor Day weekend, thus beginning a "same time, next year" relationship. It's a relationship that will withstand marriages, children, and a political rise. Each year, both Jake and Mallory patiently wait for their weekend together.
Then in the spring of 2020, a phone call from Mallory's son will change everything.
---
I have read almost every one of Elin Hilderbrand's books. Some I love, some I like, some I don't care for. This is one I just liked; didn't love it, didn't hate it. It was 100 pages too long for me and could've been shorter and sweeter. I commented to my sister that I thought it was too long; her reply was that she couldn't believe it had 4.5 stars out of 5 on Amazon. I agreed.
There were some things I liked about this book. I liked how the prologue actually gave away the end and then we were taken back in time. It didn't bother me that the characters were inserted into real life events, like a Supreme Court judge confirmation. I liked Mallory's brother Cooper.
No matter what I liked, I couldn't get behind the premise of this one. Usually, Hilderbrand's books suck me in. This one seemed to push me away. Yes, I get this was based on the movie Same Time Next Year. If the book is based on a couple meeting once every year, please include more of their weekends in the story. A good amount of the chapters in this one don't even discuss their weekends together.
I found myself wishing 28 Summers was shorter in length and that someone would just choose to make the relationship an all the time thing. I ended the book hoping that Hilderbrand's next summer novel will be way better than this one.
There is one more Elin Hilderbrand book coming to AYOB soon - her final book in the Paradise series. I bought the first two, read them, and wrote about them. The third book should be here Tuesday. Stay tuned to see if that one goes better than this one.
---
Next Read: Stay tuned.
---