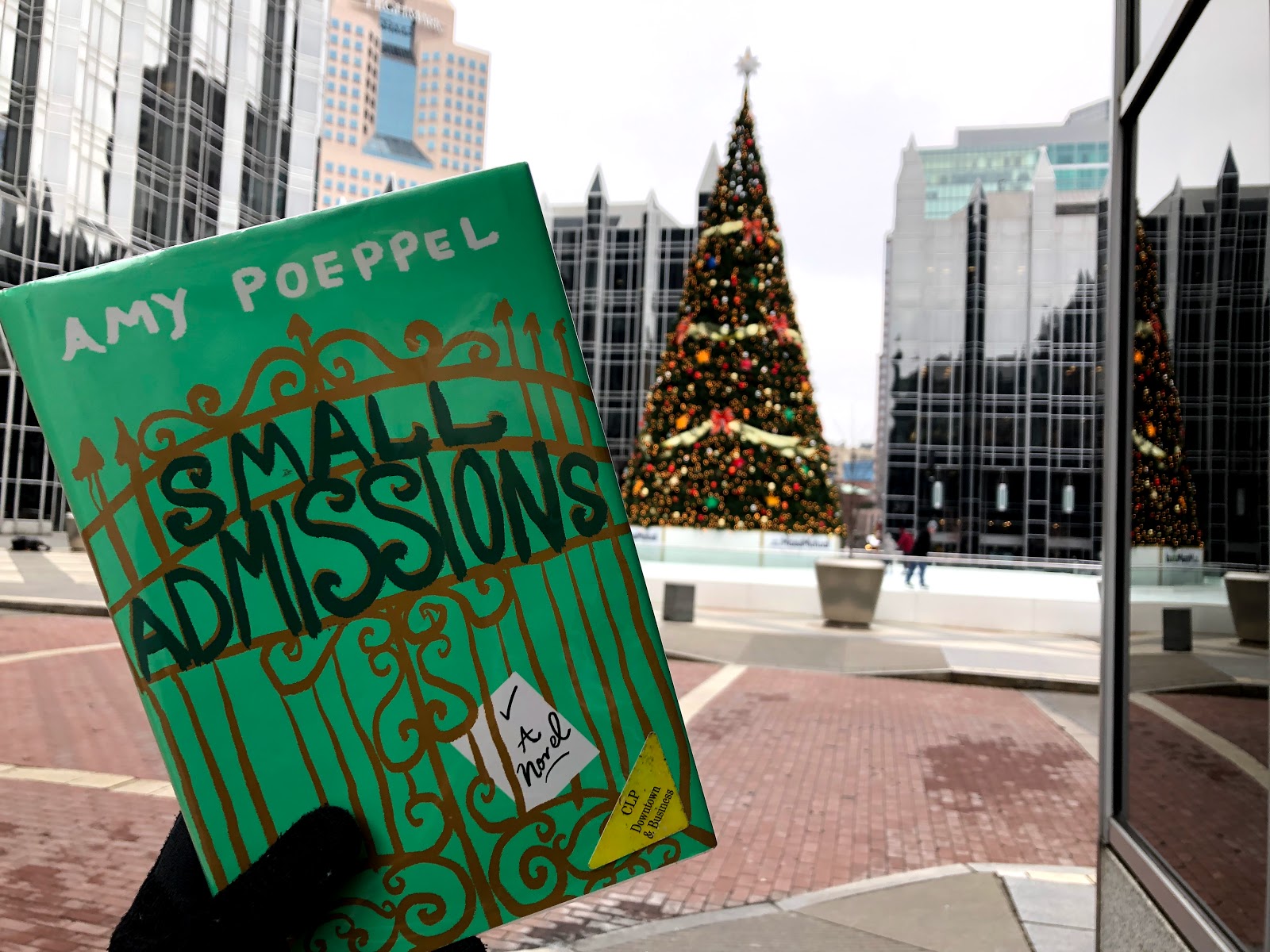 This past week seemed to calm down. Only plan was to do some Christmas shopping. Thank goodness my list is small. Maybe next year everyone will get a print out of this blog accompanied by a book? Just a thought.
---
Book Read: Small Admissions
Author: Amy Poeppel
Number of Books Read: 51
---
After being dumped at the Paris airport by her "almost" fiancé, Kate finds herself in a serious slump. Her sister and friends are worried about her mental health. When Kate interviews for an admissions position at an elite New York City private school after a unique interview, she's thrown into the craziness.
With the help of two mentors, Kate begins to get it, interviewing young fifth graders whose parents really want them to go to Hudson. Some are enjoyable, some like Dillon, are not the brightest bulbs. Kate learns that some parents, like Dillon's, just won't take no for an answer.
Her friend Chloe still feels guilty that her cousin was the "almost fiancé," Victoria sounds like the world's worst friend, and Kate's sister Angela focuses so much on Kate, she needs to learn to put a few others first.
Then throughout these entertaining, sometimes humorous, sometimes sad, interviews, Kate meets a mother who can't take no for an answer, leading to interesting consequences.
---
Small Admissions was entertaining. The interviews and experiences of Kate in her new job were interesting, funny, and made me hope this isn't really how this goes at private schools in New York City.
Poeppel writes the majority of the book in the point of Kate, but also interjects parts about her sister Angela, mixed with stories from Chloe's point of view. You start to feel bad for Chloe because she feels so guilty, you start to hate Victoria because she is really not pleasant, and you hope Angela calms down. The back and forth adds something to the book, rather than making it choppy. It allows you to get the view of others which is always helpful.
I couldn't put this one down once I picked it up. It was a solid choice for book number 51 of 2018. Definitely worth a trip to the library in the freezing temperatures to pick it up.
---
51 down, 1 to go…
Next and Final Read: Winter in Paradise by Elin Hilderbrand