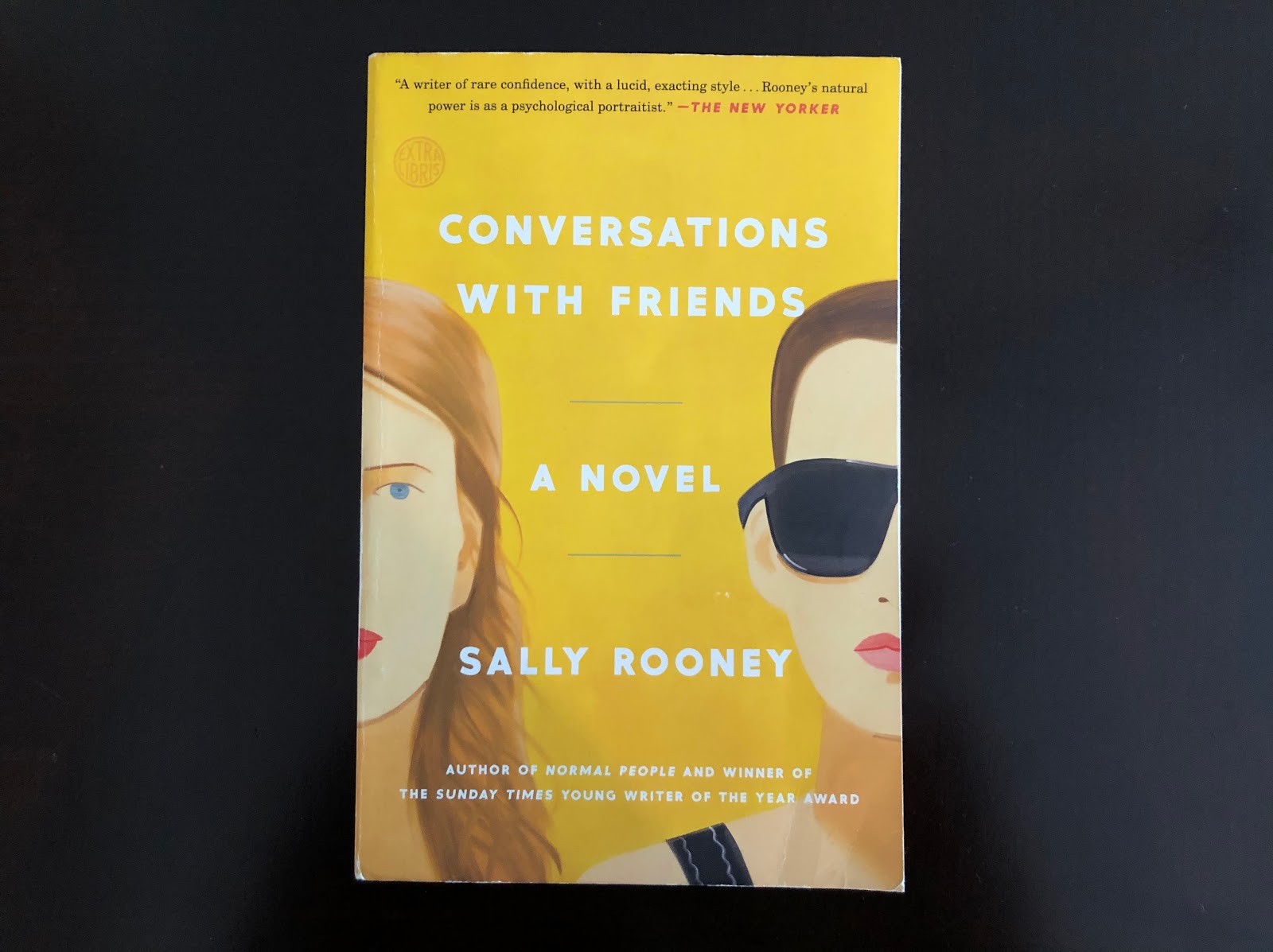 Let's admit it. We all know we are living in a weird time. I mean, no March Madness?! What will I do without it? Not lose in the family bracket, that's what I'll do.
I do see a bright side… there is always another book to read. What better way to pass the time? Yes, I know there's such things as Netflix and Disney+, but to me, there is still nothing better than a great read. So, in all the chaos, I'll keep reading. I hope you all will as well.
---
Book Read: Conversations with Friends
Author: Sally Rooney
2020 Book Count: 8 (I read Harry Potter before I read this one!)
---
Frances feels like the complete opposite of her best friend Bobbi. Bobbi is open, beautiful, and never holds back. On the other hand, Francis is quiet, observant, and self loathing. Together they seem to work, both as friends and poetry performers. One night, at a party, Francis and Bobbi meet Melissa, a famous photographer, who invites them back to her house. That is where they meet Melissa's husband Nick. 
That night begins an understanding and flirtation between Francis and Nick. Eventually, this flirtation transforms into an affair that neither can walk away from. As the affair takes Francis from Dublin to France, Francis finds herself torn between a friendship and her feelings for Nick. Her friendship with Bobbi begins to wobble, and Francis can't seem to pick which way to go, just like her thoughts on her future career.
Add in a story that is self revealing, a family situation that is draining, and a weird conclusion, and you've got Conversations with Friends. 
---
It's been over a week since I finished this book, and I'm still not sure what to think of it. I previously read Rooney's Normal People and had the same thoughts. This book was interesting in a few ways. First, it always seemed like Francis had no emotion. I'm assuming that was by design so she came off even colder. The back of the book describes her as "cool headed and deeply observant." After reading, I don't agree with the description. It's hard to like a narrator/main character who doesn't have any emotion and just seems so "woe is me" all of the time. 
The second interesting thing about this book (and Rooney's other book was like this too): there are no quotes. Every time a character speaks, it's just another sentence or paragraph. It drove me nuts - this format makes a book difficult to read. It's hard to find a rhythm. 
This book had rave reviews. Taylor Swift even said it was her favorite novel at one point. Do I agree? No. This is not the greatest book, and felt slow. It is definitely no Where the Crawdads Sing. But, that doesn't mean it's a bad book. It's just different.
It wasn't for me. But maybe it is for you. I hope I'm wrong. 
---
Next Read: The Hating Game by Sally Thorne