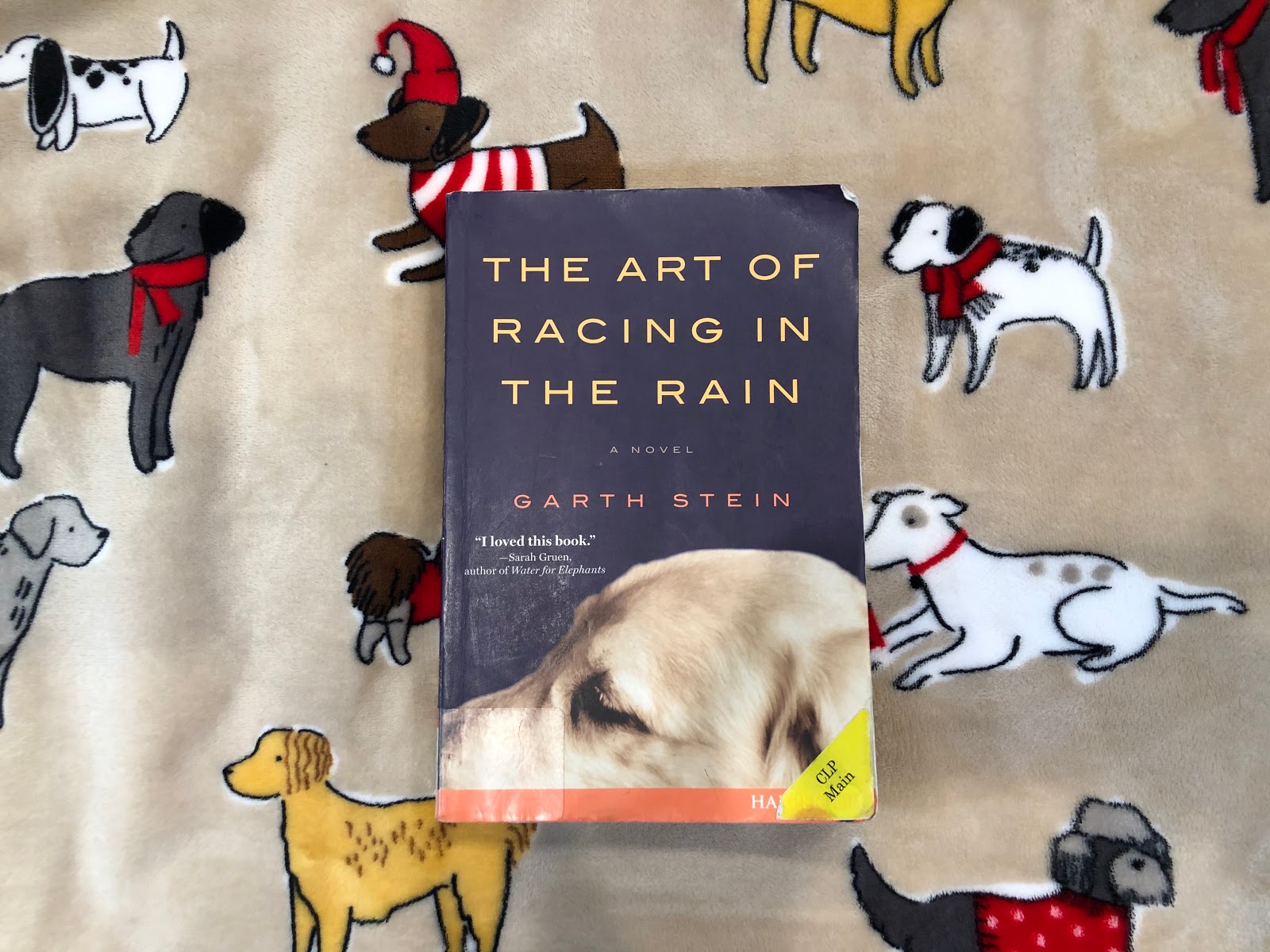 This next read came as a recommendation from a friend. Yes, I know it's a movie too, so eventually I would have gotten to it. But a recommendation usually bumps up the book on the "to read" list. Really, if this book wasn't as good as I expected, who knows what would have happened - awkwardness, bitterness, loss of a friend. 
Just kidding of course. I will never hold a book recommendation grudge… unless it is really, really bad. Then, yes. I definitely will. 
---
Book Read: The Art of Racing in the Rain
Author: Garth Stein
Number of Books Read, 2019 Edition: 43
---
Enzo has been a member of the Swift family for years, after Denny picked him from a litter of puppies. As he nears the end of his life, Enzo begins tells his and Denny's story, all with the hope that a documentary he saw once is true - when a dog is finished living his lifetime as a dog, he will be a man in his next incarnation. Enzo feels ready to be human.
Denny is a semi-professional race car driver, hoping to make it big. But family life is important to him, and soon his and Enzo's family expands, first when Denny marries Eve, then when Zoe is born. Enzo observes and participates in their family dynamic, whether it is watching TV while everyone is away, or playing games with Zoe. When Denny is at races, Enzo acts as the protector, promising Eve that he will always protect Zoe, no matter what. 
Enzo observes something before the humans do, and soon, the family dynamic takes a drastic and heart-breaking turn. While Denny begins a fight for his family and reputation, Enzo observes everything, from the evil "twins" to the caring ways of Denny's friends. At one point, he even takes matters into his own paws when he feels Denny is making the wrong decision. 
As Enzo's life is coming to an end, he hopes for the future, reminisces about the past, and gets one last chance to take a drive around the track, barking twice. Faster, Denny, faster. 
---
I'll start by saying this - no book grudge needed for this one. The Art of Racing in the Rain was enjoyable, heart-breaking and fun, all in one. Trust me, it's possible. 
I can't say that in my adult life, I have read a book written from the perspective of a dog. I didn't mind it one bit. I enjoyed reading from the point of view of Enzo, including how he told stories of the Swifts along with facts he learned through his TV obsession. One chapter is dedicated just to how Enzo thinks dogs are man's closest relative, not chimpanzees, with two cases as to why he thinks that. Other chapters include quotes or stories about famous race car drivers. His point of view and story is clear, with details that can only be provided by someone who happens to always be in the room. 
At one point, I looked at my fiancé, who does not read books (I am not joking, he really doesn't), and told him I thought he'd enjoy this one. It mixes two of his favorite things - cars and dogs! What can go wrong? In this case, not much. 
My friend did not lead me down the wrong path with this one (I didn't think she would). The Art of Racing in the Rain is funny, charming and different. Overall, a great read that will make you want to keep reading.
---
Next Read: Dear Girls by Ali Wong