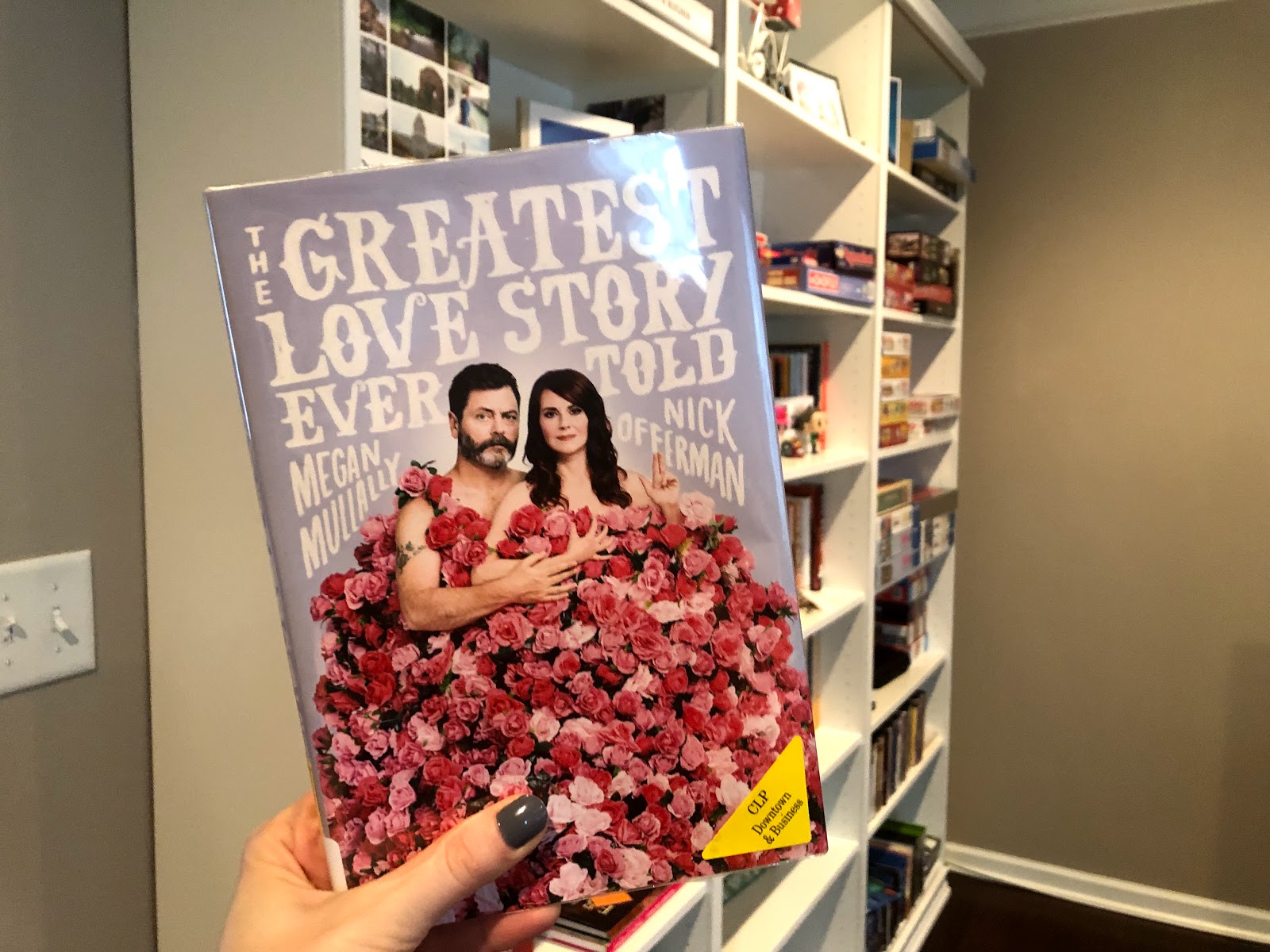 ---
title: 'A Power Couple Writes a Book' date: 2018-11-24T06:14:00.000-08:00 draft: false
When I found myself at the library one day at lunch (again), I couldn't not pick this one up. I mean look at the cover above.
See what I mean?
It's Karen (also Tammy) and Ron (also the Plumber) telling their story. Each has their own books but this one was different. The two come together to write this one.
---
Book Read: The Greatest Love Story Ever Told
Authors: Megan Mullally & Nick Offerman
Number of Books Read: 49
---
Megan Mullally and Nick Offerman have been together for 18 years. Hollywood or not, 18 years is a long time. In their first book together, they describe how they met, how they keep things fresh, and how the age difference means nothing to them.
Written mostly in conversation, transcript style, Mullally and Offerman start the book discussing how they met. Both were cast in a small play right before Will & Grace was just about to make it big, and Mullally was looking for a fling. She found Offerman, and here they are writing a book.
Together they embark on a lifetime of stories. From past relationships (Mullally has quite a few, Offerman does not), to their mutual love of music, you learn about all of the things going on in their lives. (I didn't know Mullally was in a band!) They have both been on hit TV shows (one with the comeback), both have a motivation to always learn more, and both share a love of Tom Waitt songs.
Throughout the book, there are snippets of individually written pieces. Mullally offers her advice on being yourself, while Offerman talks openly about how they handled each other's success coming at different times (he was Mr. Mullally). There's also a small story about an encounter with Meryl.
Both are open about their different experiences growing up, Offerman with a large, loving family, and Mullally with a small, difficult one. They also talk about how each came to be in Hollywood in different times, and how their two week rule keeps things fresh.
---
My expectations of this book were obviously high. I mean these are two funny people, who are both on shows I find hilarious (and at times they have been on the shows at the same time). I was worried I would be let down.
I was not. This book is humorous, and while you read their conversations, you feel their chemistry. They are pretty open about topics, from marriage to religion to a lot of details about their lives you may not want to know. It also helps that each chapter begins with a themed picture of the couple. Like the cover, the pictures are amusing.
Then there was a chapter that only showed pictures of puzzles they completed together. I love puzzles. Building a puzzle, to me, is one of the most relaxing things you can do. I've managed to convince my boyfriend they are a good idea. So of course, as soon as I saw this chapter, I came home and told my BF. That night we also finished a puzzle:
If you like Mullally or Offerman, you'll like this book. They are true to themselves and funny along the way. You may get a couple of laughs. I'm hoping you're inspired to build a puzzle. Feel the joy of it all.
---
Next Read: How Hard Can It Be? by Allison Pearson