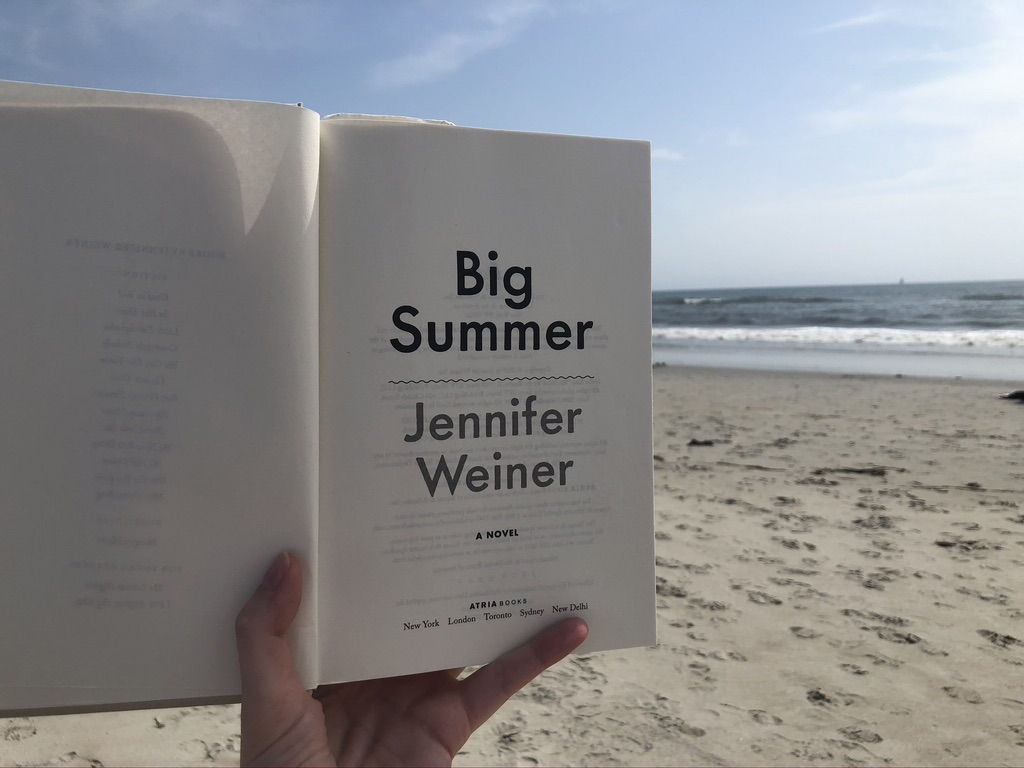 Before we left for a weeklong vacation, Amazon luckily had a "buy two, get one" sale on books. It was great timing for me, since I always like to take a few new reads with me. I love to read anytime - on my couch, on the deck, on the bus to and from work (or I did when I actually went into the office), but there is nothing like reading a book on vacation. It's the best, especially when the book is a beach/summer read; it's definitely convinent when the title of the book has the word "summer" in it.
---
Book Read: Big Summer
Author: Jennifer Weiner
2020 Book Count: 41
---
Daphne Berg is making her name as a plus sized social media influencer. She has just signed on to be the "face" of an up and coming brand. Life is good. She lives near her parents, with whom she has a great relationship, her best friend and roommate are on in the same, and the kids she nannys are great. Then, out of the blue, an old familiar face resurfaces.
Six years ago, in one night, Daphne ended her friendship with Drue Cavanaugh and found a confidence in herself she never had before. Now, Drue is back and wants Daphne to be in her extravagant Cape Cod wedding. Daphne reluctantly agrees and finds herself swept back into Drue's life.
The weekend in Cape Cod is off to a great start. Daphne is enjoying herself at the wedding of the summer and meets a cute guy at the rehearsal dinner. While they are hitting it off, Drue is in the middle of a very public family drama. The morning of the wedding, Daphne wakes up to a shocking event and finds her new crush is missing.
So begins Daphne's quest to unveil Drue's past; a past that is full of complications, unrevealed truths, and a desire just to be accepted. As Daphne digs deeper, she will find that people are not always what their Instagram tells you.
---
Big Summer is a story about friendship, secrets, and self image. In one night, Daphne lost a friend and found strength in being true to herself. Her character was relatable and likeable. I did think she was a little crazy for agreeing to be in Drue's wedding after ten minutes of talking again. But, she was fun and I liked her. Weiner has always had relatable characters in her books. I was glad to see that hadn't changed in her newest book.
Halfway through this book, the story goes from a comedy of sorts to a mystery. While unusual, it wasn't a bad turn; although I still can't decide what I would classify this book as, besides a beach read. The second half of the book introduced new characters and secrets that kept me guessing. I kept reading to find out what else would be revealed. It's always good when a book keeps you on your toes, even if it's just slightly.
None of Jennifer Weiner's books will ever top In Her Shoes for me. But that doesn't mean I don't enjoy her other books. This holds true for Big Summer. While it's not Weiner's best work by far, it is a story that will keep you reading as you enjoy the sunshine.
Read this one if you are looking for a summer read that has wit, drama, and a few twists and turns along the way.
---
Next Read: Love, Chocolate, and a Dog Named Al Capone by Abigail Drake
---